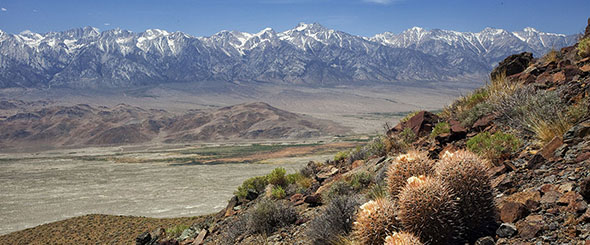 Center Content:
California Planning and NEPA
To ensure the best balance of uses and resource protections for California's public lands, the BLM undertakes extensive land use planning through a collaborative approach with local, state, and tribal entities, the public, and stakeholder groups.  From hiking in the Redding Field Office to renewable energy projects in the California Desert Conservation Area, land use plans provide the framework to guide decisions for actions and approved uses on BLM-managed lands in California.
View our plans and NEPA documents in development, those that are in effect, and frequently requested NEPA documents in the accordion below.  Find all BLM California NEPA and planning documents in our e-planning system.
The California Desert region holds some of the highest concentrations of renewable energy potential in the United States. The following NEPA documents in California are frequently requested and available in e-planning.
Renewable Energy NEPA Documents
Desert Quartzite Solar, 2016
Palen Solar Electric Generating System, 2009
Haiwee Geothermal Leasing Area Environmental Impact Statement and California Desert Conservation Area Plan Amendment, 2009
West of Devers Transmission Upgrade, 2014
Blythe Solar Power Project, 2013
Desert Harvest Solar Farm, 2011
Desert Sunlight Solar Farm Project, 2010
Genesis Solar Power Project, 2009
Ivanpah Solar Electric Generating System, 2007
McCoy Solar Energy Project, 2011
Soda Mountain Solar, 2012
Stateline Solar Farm Project, 2011
Abengoa Mojave Solar Power Plant, 2011
Blythe Mesa Solar Power Project, 2015
Campo Verde Solar Gen-tie Project, 2012
Centinela Solar Energy, 2011
Imperial Solar Energy Center (CSolar) South Gen-tie, 2010
Imperial Solar Energy Center (CSolar) West, 2010
RE Cinco Gen-Tie Project, 2014
Alta East Wind Project, 2011
Ocotillo Wind Energy Facility, 2010
Tule Wind Energy Project, 2009
Casa Diablo IV Geothermal Energy Project, 2011
Devers-Palo Verde No. 2 Transmission, 2005
Barren Ridge Transmission Project, 2008
Eldorado-Ivanpah Transmission, 2009
SDG&E East County (ECO) Substation Project, 2009
Eagle Crest Energy Gen-Tie Project, 2016