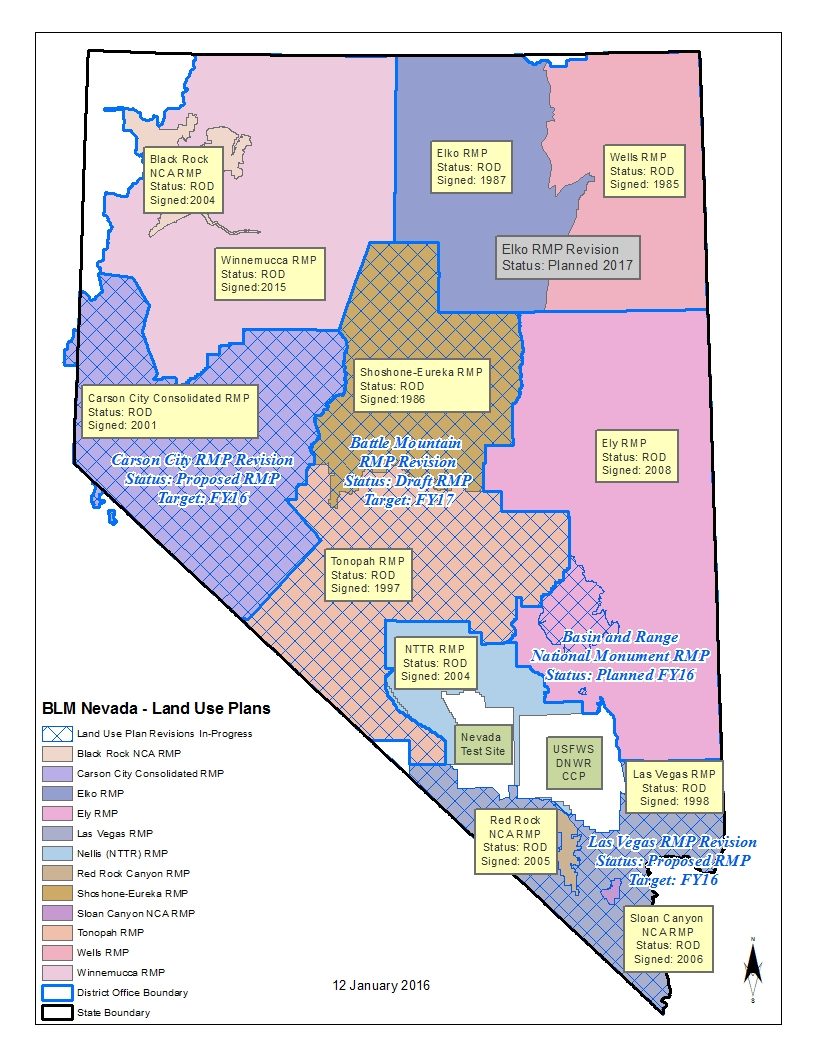 Nevada faces most of the broad issues before BLM today and is a microcosm of many national issues: sustainable energy production and renewable energy development (wind, solar, geothermal), energy infrastructure (priority corridors), habitat conservation for sensitive species (sage grouse), healthy forests and rangelands, implementing the National Fire Plan, restoring fire-affected landscapes, developing recreation opportunities and balancing recreation and OHVs uses, water rights, and federal, state, county and local land tenure, to name but a few. Indeed, rapid urban growth presents one of the most challenging planning aspects for BLM in Nevada.
BLM Nevada administers approximately 47,500,000 acres and is currently engaged in revising several of its land use plans, including major revisions and consolidation of its older land use plans. BLM Nevada collaborates with rural communities to address future economic and sustainable development and rural development and its related issues in Resource Management Plans (RMPs). Many of these growth issues are closely inter-related with development of County public lands bills through Congressional legislation.

BLM Nevada encourages the participation of federal and state agencies, as well as Tribal and local governments and counties in collaborative and joint planning in all its planning efforts. Experience has demonstrated that while this process can be complex at times, it produces superior plans which address the needs of our public lands users. Local community participation can be most helpful in providing valuable input through the participation of county representatives on planning teams as cooperating agencies, to assist in resolving and coming to consensus on critical or controversial issues raised in the planning process.
View our plans in effect, frequently requested NEPA documents that inform our plans, and featured plans and NEPA documents in development in the accordion below.  Find all BLM Nevada NEPA and planning documents in our e-planning system.
PLANS AND NEPA DOCUMENTS IN DEVELOPMENT
OPEN CONFIGURATION OPTIONS

PLANS IN EFFECT

FREQUENTLY REQURESTED NEPA DOCUMENTS