BLM CALIFORNIA WILD AND SCENIC RIVERS
The Bureau of Land Management in California manages eight wild and scenic rivers, with 109 river-miles and 24,800- acres.  These rivers provide rare and lush riparian areas in the desert, challenging whitewater rapids through deep canyons and rugged mountains in central California, and serene mountain valley streams excellent for fly-fishing in northern California. 
The diverse river habitats provide crucial nurseries for salmon and steelhead in Northern California and for threatened desert pupfish and the Amargosa Vole in Southern California. The Eel River, is the longest free flowing Wild and Scenic River in the continental 48 with 398-miles classified either as wild, scenic or recreational, in cooperation with state, tribal and other federal agencies.  Whitewater streams provide a full range of river experiences with Class I, II, & lll rapids for fun day-use and with Class IV and V rapids for an extreme rafting and kayaking experience. 
Wild and Scenic Rivers are designated to preserve their free-flowing condition and to protect and enhance their outstandingly remarkable scenic, recreational, geologic, fish, wildlife, historic, cultural, or other similar values (Wild and Scenic Rivers Act of 1968).
Merced Wild and Scenic River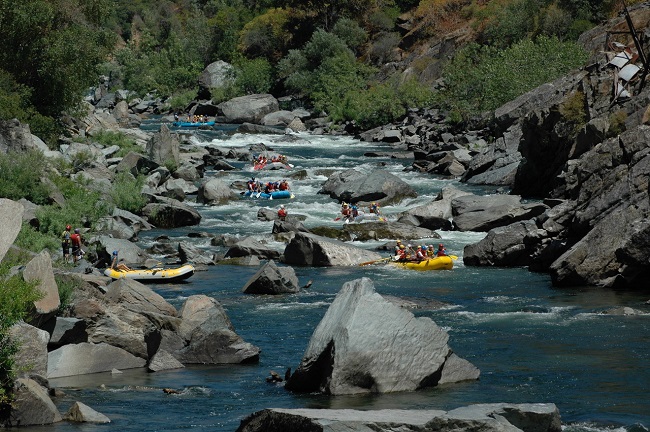 The Merced River truly has something to offer for everyone.  122 miles of nationally designated Wild and Scenic River make up this tremendous Sierra resource managed by the National Park Service, the National Forest Service and the Bureau of Land Management.  Visitors come from all over the globe to experience the beauty, power, solitude, and wonder of the Merced River.  From its headwaters above 13,000 feet to the 876 foot high pool level on Lake McClure, the entire Merced and its largest tributary the South Fork are protected under the National Wild and Scenic River System.
Even though the vast majority of visitors come in summer the rest of the year is equally amazing.  Winter is great for solitude, leisurely walks, birdwatching, and biking and hiking.  With no dams upstream, the spring melt builds up to full force by the end of May.  Fishing is best in spring and early summer, and still good year round.   Mountain biking, hiking, trail running activity occurs on the old Yosemite Valley Railroad Grade all year round.  The campgrounds start to fill up when school gets out and stay busy until classes start up again in the fall.  Mid-summer is swimming season—daily average temps are over 100 degrees and the swimming is fantastic!  Prospecting for gold has historically taken place on the Merced River, and it continues to this day.  After Labor Day the crowds are gone and the nights are cool, perfect for hiking and biking again.  Solitude and quiet return to the Merced River and the canyon recuperates.
The Merced River also contains plants and wildlife, geologic, and archeologic outstandingly remarkable values (ORV) in addition to recreational values. The Merced is host to two endemic species.  The limestone salamander occurs only in the Merced River watershed under rocky slopes in mossy, shaded aspects.  Likewise, Clarkia Bilobia is found only in this watershed making these two endemic species protected under federal law.   The oldest geologic formations in the Merced River canyon are exposed where the granitic-metamorphic contact zone meet near Ned's Gulch. The old Yosemite Valley Railroad grade runs along the entire canyon as a constant reminder of the rich and colorful history in this area.  Native American pounding stones and artifacts occur throughout the corridor. 
The BLM operated Briceburg Visitor Center is located just 12 miles east of Mariposa on Highway 140.  Camping is allowed only in designated campsites throughout the entire Wild and Scenic corridor.  The Bureau of Land Management has three campgrounds (29 sites total) downstream from Briceburg on the gravel River Road.  The Forest Service has two campgrounds (9 sites) near El Portal.  There are private campgrounds and hotels at Indian Flat, Cedar Lodge, and Yosemite View.  Yosemite has a full range of lodging but can fill up several months in advance.
If you have never been to the Merced River, any time of year can be incredible.  For those of you who have been here before, try a new season and discover a different Merced River.  You will be rewarded either way.
All BLM California Wild and Scenic Rivers
A complete list of BLM California wild and scenic rivers is below: