BLM Idaho Mining and Minerals
The BLM administers approximately 36.5 million subsurface acres in Idaho, along with mining claim records and mineral leases for lands managed by other Federal agencies.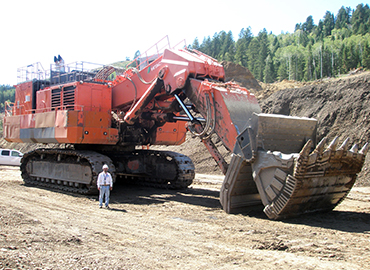 ​
Phosphate Mining
Phosphorus is an important industrial commodity and an essential nutrient for all life, including agricultural crops. Phosphate mining and processing contribute $2 billion in value-added products to the U.S. economy and directly employ over 1200 people in high-paying jobs. Phosphates are used in an array of products, from baked goods and personal care products to fertilizers, textiles and electronics, among others.
Phosphate mining has been an important industry in southeast Idaho since the early 1900s. Today, southeast Idaho's open-pit phosphate mines supply about 15% of the nation's and 4% of the world's phosphate. The BLM Pocatello Field Office is situated at the heart of the Western Phosphate Field – the largest remaining phosphate deposit in the U.S. – and administers the Bureau's largest and most complex non-energy leasable minerals program. The BLM oversees 86 active phosphate leases in eastern Idaho on a total of 44,000 acres.
There are four active phosphate mines in the Pocatello Field Office:
| | | |
| --- | --- | --- |
| Mine | Lessee/Operator | Surface Owner/Agency |
| Lanes Creek | Agrium | P |
| Rasmussen Ridge | Agrium | F,S |
| Blackfoot Bridge | Monsanto | P,B |
| Smoky Canyon | J.R. Simplot Co. | F |
*B=Bureau of Land Management, F=Forest Service, S=State of Idaho, P=Private
The ore produced from these mines feeds industrial plants in Pocatello and Soda Springs that produce phosphate fertilizer and elemental phosphorus.
The BLM's Pocatello Field Office is analyzing the potential environmental impacts of several proposals for new mines or expansions of existing operations: Dairy Syncline, Rassmussen Valley, Husky/North Dry Ridge, East Smoky Panel Mine and Caldwell Canyon. 
In Idaho, all mining claim location notices are submitted to the Idaho State Office.  Fees are accepted through the BLM's Payment Portal (preferred), mail or phone.
In Idaho, BLM administers 115 community pits and provides 264 free use permits to county and state government for a wide variety of landscape rock, gravel and sand. For more information or to purchase a permit,  please contact your local BLM office. BLM staff can answer your questions and select rock that best meets your needs.