Farmington Law Enforcement Ranger Selected as BLM Ranger of the Year
Bureau of Land Management (BLM) Farmington Field Office Law Enforcement Ranger Cole Blevins was recently selected by the BLM Director of Law Enforcement and Security as the 2019 BLM Ranger of the Year. This annual award recognizes exceptional performance within the BLM's Law Enforcement Program.
Ranger Blevins started with the BLM Farmington Field Office in 2006 as a seasonal Geographic Assistant while still in college.  He was hired to do a road inventory, which included driving around with a GPS.  Blevins called this, "a pretty amazing job for a 19-year-old."  After graduating with an associate degree in GIS, he was offered an internship where he was able to dabble in many programs like oil and gas, fire, and recreation, but he mostly focused on GIS.  "I saw the Ranger gig and it seemed like the coolest thing in the world, so I started working toward that, and the Lord blessed, and thanks to a lot of really nice people [including BLM New Mexico Chief Ranger Jeff Miller] eventually was given the Ranger position, which is pretty crazy considering I had no law enforcement or military experience," he said. Rangers Blevins went to the academy and completed field training, becoming a ranger in 2010.  
According to colleagues, Ranger Blevins exhibits a strong work ethic, resourcefulness, and a moral compass that has molded him into an exemplary law enforcement leader.  He has developed and strengthened relationships with state and local partner agencies that have been valuable to the BLM's law enforcement mission.  Ranger Blevins has always viewed his role to be part of the local community and be regarded as "one of us" by his local, state, and county partners.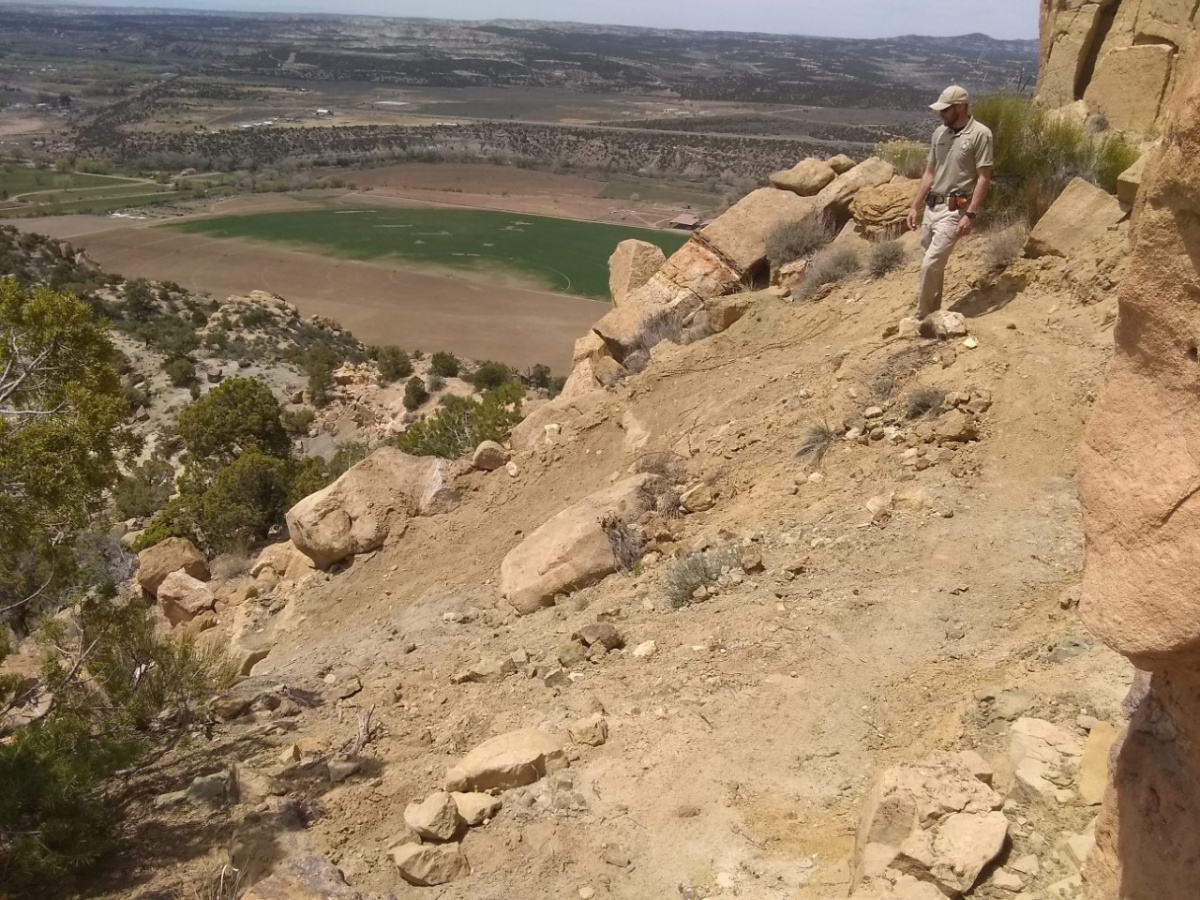 Ranger Blevins's 2019 accomplishments include teaching BLM law enforcement and authority at the San Juan County Police Academy.  The San Juan Police Academy includes state, local, and county officers from across New Mexico.  The training coordinator for the academy recognized Ranger Blevins' value to the program and invited him to also instruct cadets in defensive tactics.  Today, Ranger Blevins teaches defensive tactics as a guest instructor, in addition to the BLM authority and jurisdiction class.  Ranger Blevins is a passionate defensive tactics instructor for the BLM as well.  
He is an accomplished student of jujitsu.  In 2019, he sought out training with an internationally known Gracie Jujitsu instructor to increase his skill and provide high-level training to his students.  As a BLM ambassador, Ranger Blevins participates with the San Juan County Mentorship program, in which he works directly with teenagers to introduce them to law enforcement and the BLM.
Rangers Blevins' outstanding leadership and ethical qualities, and the excellent working relationships he has developed with law enforcement personnel, is reflected during the performance of his law enforcement duties.  In true Ranger Blevins style, when asked about receiving this prestigious award, he said "The agency has been really good to me and it's definitely the best job I could imagine.  Sorry I'm not very interesting, but the job is awesome."  Well, the BLM thinks you're awesome, Cole, and we commend you for this achievement.