Instructors get more training as ROVs replace ATVs
Story by Greg Campbell, Fuels Management Specialist, Butte Field Office
Photos by Pat Merrill, Safety Specialist, Eastern Montana/Dakotas District

In an effort to reduce risk and limit injuries, the BLM recently enacted safety policy to prohibit the purchase and use of All Terrain Vehicles (ATVs). With the movement away from ATVs and their subsequent replacement by Recreational Off-Highway Vehicles (ROVs), the current ATV Safety Institute instructors were losing their qualifications.
ROVs require a different level of instructor training. Western Montana District Safety Specialist Anya Moline recognized the need for the timely implementation of a replacement training to maintain certified and qualified instructors within the agency.
As a result, the BLM Montana Dakotas proactively reached out to the Recreational Off-Highway Vehicle Association (ROHVA) group to set up a DriverCoach to teach a train-the-trainer course locally. In October 2018, Ron Hartzmann, a DriverCoach Trainer with ROHVA, trained 17 BLM employees and one Forest Service employee. These driver trainer preparation courses were completed on BLM lands administered by the Butte Field Office near Pip
estone, Montana.
For three weeks in October, employees were coached on how to teach the fundamentals of operating an ROV and the basic knowledge and skills necessary for successful operation of an ROV.  The employees learned how to train ROV users in a safe environment, where operators could practice basic skills and techniques.   
The course curriculum consisted of pre-work, an E-course, closed range exercises (CREs) and open trail experiences (OTEs).  The instructors were coached on how to properly teach the CREs, enabling the drivers to practice ROV operations in vehicle familiarity, control operation, straight line operation, braking, normal and quick stops, turning, and swerving.  These experiences utilized six different CREs to emphasis the correct and safe operation of an ROV.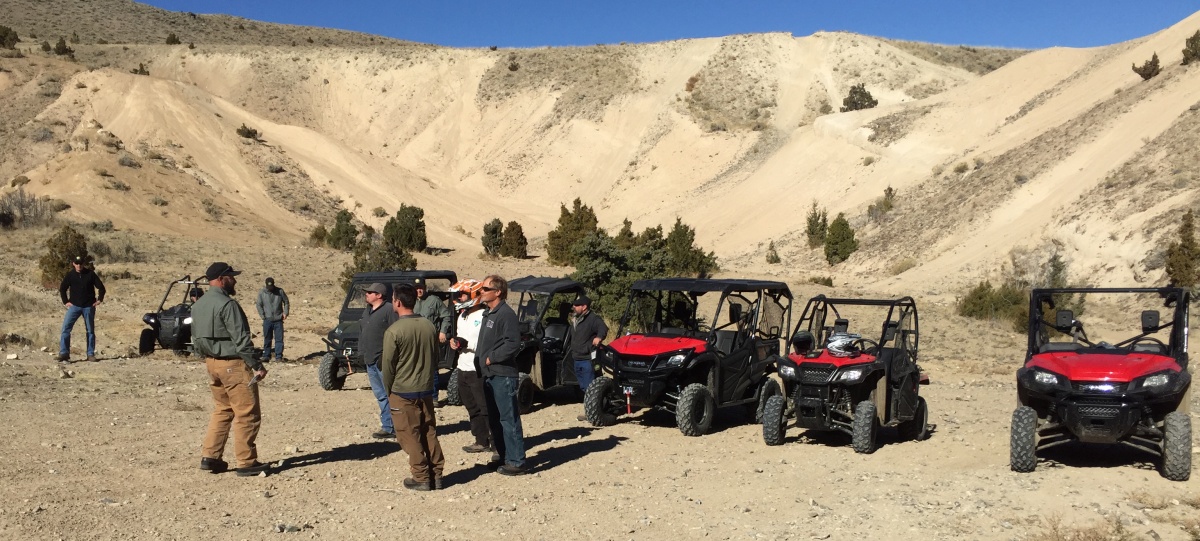 The OTEs consisted of seven exercises conducted during a trail ride. These exercises included driving on rocky terrain, on sandy terrain, near trees, through water, over muddy terrain, on hills, and across side-hills. 
On the final day of the training, the students became the instructors, coaching a group of other students through the CREs and OTEs.
BLM MT/DAKs now has 17 qualified ROV DriverCoach instructors located throughout the districts and field offices.  
A special thanks goes out to Anya for requesting end-of-year funding for the training sessions!