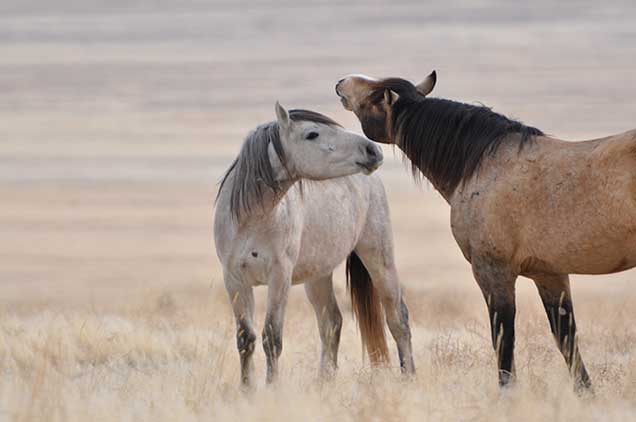 Onaqui Mountain HMA
Mares and stallions average around 800 to 1000 pounds. The dominant colors within the herd area are brown and bay. Other colors found include sorrel, roan, buckskin, black, palomino, and gray. The horses are in good condition and are frequently seen in the vicinity of the Pony Express Trail in Skull Valley. The management objective for the Onaqui Mountain HMA is to maintain a population of 121 to 210 wild horses; as of March 1, 2017, the population is estimated at 450.
Location: The Onaqui Herd Management Area (HMA) is located 40 miles southwest of Salt Lake City and extends from Johnsons Pass south to Look Out Pass.
Size: 205,394 acres
Topography/Vegetation: Stock reservoirs and intermittent streams fed by winter snows and spring runoff provide adequate water fro the herd. Wild horses have occupied the Onaqui Mountains since the late 1800s. The vegetation on the upper elevations of the Onaqui Mountains is comprised of brush and scattered stands of conifers. The foothills area is vegetated by stands of juniper trees. The valley areas are covered with sagebrush and annual cheatgrass.
Wildlife:
AML:  121-210