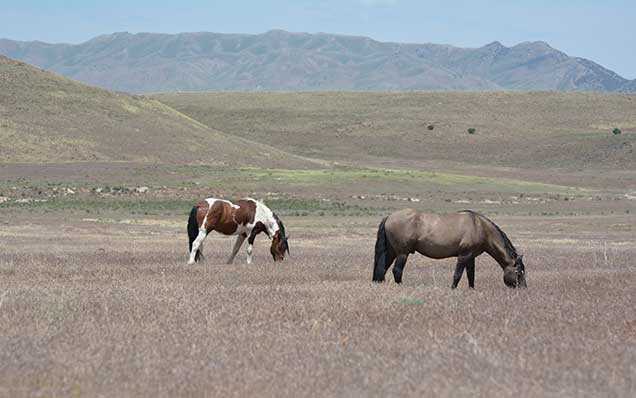 Cedar Mountain HMA
Mares and stallions average around 700 to 1000 pounds. The dominant colors within the herd area are black and bay. Other colors found include sorrel, roan, buckskin, black, pinto, palomino, and gray.
Location: The Cedar Mountains Herd Management Area (HMA) is located 50 miles west from Salt Lake City, Utah.
Size: 411,636 acres
Topography/Vegetation: Stock reservoirs and intermittent streams fed by winter snows and spring runoff provide adequate water for the herd. The vegetation on the upper elevations of the Cedar Mountains is comprised juniper trees. The foothills and valley ranges include mixed desert shrubs. Due to range fires during the past 10 years, some of the area is dominated by cheatgrass.
Wildlife:
AML:  190-390
Viewing Opportunities: From Salt Lake City, take I-80 west about 40 miles to the Exit 77, Dugway/Rowley. Travel south approx. 17 miles on Hwy 196 to the Skull Valley Ranch. At the south end of the ranch, turn west at the BLM road sign that reads "Rydalch Pass-Eight Mile Spring". Proceed west another mile and turn left onto the dirt road immediately after the cattle guard. Travel southwest on this road across Skull Valley for approx. 14 miles to the Cedar Mountains and Rydalch Pass. Wild horses from the Cedar Mountain Herd can be viewed along the east and west side of the Cedars south to the Dugway Proving Ground fence and north to Hastings Pass. Best viewing opportunities are often around Brown Spring just on the west side of Rydalch Pass. Do not enter the posted military area of Dugway Proving Grounds without permission.