Center Content:
Visual Resource Management
The BLM is responsible for managing the public lands for multiple uses, and for ensuring that the scenic values of these public lands are considered when providing for various uses.  BLM's Visual Resource Management (VRM) system involves inventorying scenic values and establishing management objectives for those values through the resource management planning process.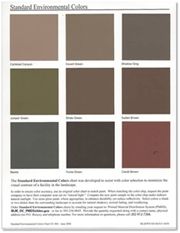 BLM, in collaboration with the paint industry and other governmental agencies, has developed a  VRM Standard Environmental Colors Chart that best represent the typical colors found in western landscapes. The colors shown here are close representations; however, due to variations in hardware and software capabilities, they may not be accurate and should not be used for actual color selection. A paper copy of the chart can be obtained from the Visual Resource Management Point of Contact.