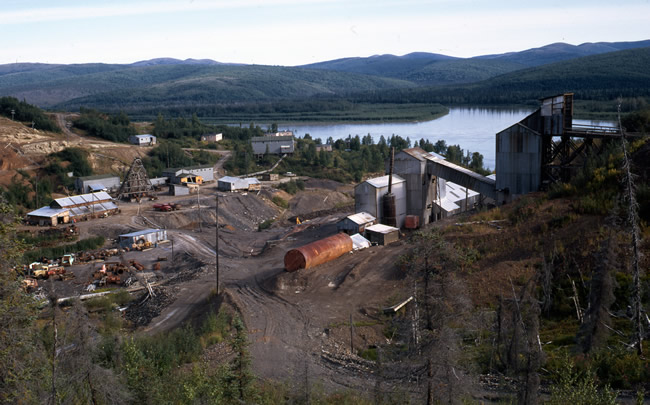 Red Devil Mine
Location: Outside of Red Devil Village, Alaska
Field Office: Anchorage Field Office
Partners: None
Hazards being addressed: Shafts, adits, chemicals, fuel, solid waste, and tailings/waste rock
The Red Devil Mine is an abandoned cinnabar mine and mercury production facility, located on the Kuskokwim River in Southwest Alaska.  Mining occurred at the site from 1933 until 1971.  During that time, mine operators conducted extensive underground and surface mining and disposed of mine tailings and ore processing wastes at the site. 
BLM began addressing hazardous materials and physical safety hazards at the site in 1987, initially focusing on removing processing chemicals, drums, PCBs in transformers, and backfilling open mine shafts and passages.  In 2002, derelict mine buildings and mercury production facilities were demolished and buried in onsite landfills.  From 2003 through 2010 BLM cleaned up spilled fuel from above-ground storage tanks. 
Since 2009, BLM has been conducting a Remedial Investigation and Feasibility study of the mine, focusing on processed tailings near Red Devil Creek.  Investigation results confirm that the tailings at Red Devil Mine contain high concentrations of mercury, arsenic, and antimony and adjacent soil, water, and sediment contain elevated concentrations of contaminants due to erosion and leaching of the tailings. In 2014, the BLM realigned a portion of Red Devil Creek, regrading the largest tailings piles and constructing a retention basin in the creek downstream to catch future eroded tailings.  This action stabilized the site until site-wide remediation can be performed.
The BLM has prepared a draft Proposed Plan that summarizes the results of the investigation and feasibility study and identifies a cleanup alternative that BLM believes will address the environmental risks posed by the tailings and related soil. The BLM's preferred alternative provides a long-term remedy at Red Devil Mine that protects human health and the environment from the mercury, arsenic and antimony related to processed tailings.  The BLM plans to seek public input on the proposed plan when it is complete.