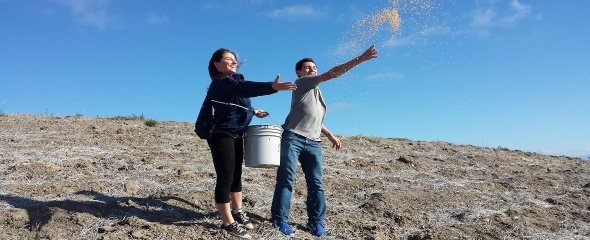 Fort Ord National Monument Friends and Partners
Fort Ord National Monument relies on Partnerships to improve the health of the land and quality of the recreational experience.
The Watershed Institue at California State University Monterey Bay has been a partner with the BLM at Fort Ord for well over a decade. Working closely with their Return of the Natives program (RON), hundreds of acres of former military training lands with non-native vegetation has successfully been restored into ecologically stable sites with native plants.
An important Partner with Fort Ord National Monument is the U.S. Army's Fort Ord Base Realignment and Closure Team (BRAC). BRAC at Fort Ord currently manages half of the Monument and works with the BLM on weed abatement, habitat restoration, and the Herculean task of removing Munitions and Explosives of Concern from future lands on the Monument that will be accessible to the public.
FORT Friends is an local non-profit organization that supports the Fort Ord National Monument and occasionally cosponsors BLM celebratory events, volunteer efforts, and other monument-wide initiatives.  This organization focuses primarily on recreational trail opportunities on the former Fort Ord and has been a strong partner with the BLM since the monument was designated in 2012.
The BLM has worked with the Monterey Off-Road Cycling Association (MORCA) on the national monument for over 10 years.  Although MORCA has a county-wide cycling interest, a significant amount of partnering occurs on Fort Ord in regards to trail stewardship.  MORCA sponsors monthly trail volunteering opportunities and has constructed several new trail segment as planned by the BLM.
Along with the contributions of BLM Volunteers, Fort Ord National Monument continues to be a successful blend of partnerships.