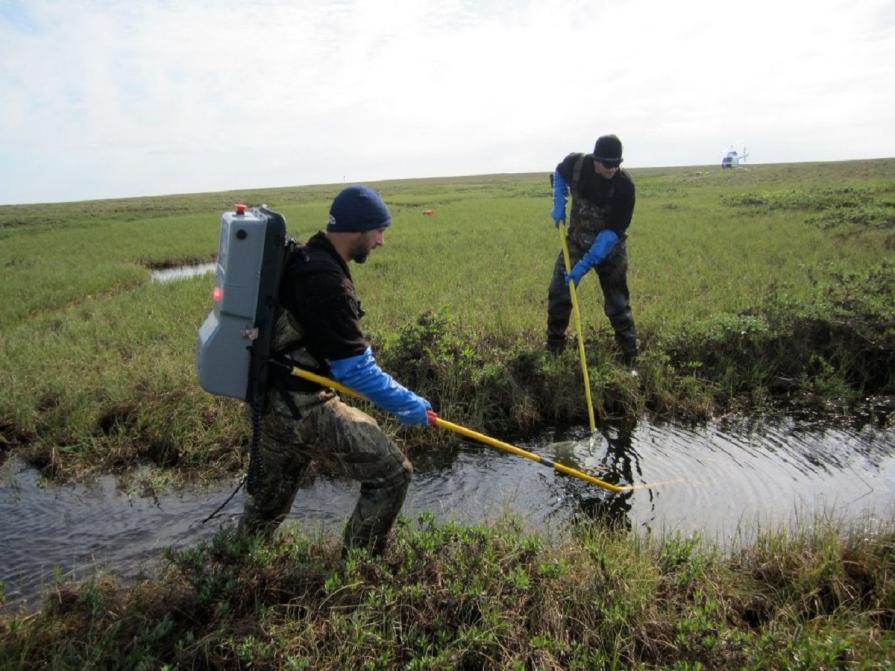 Alaska Fisheries and Aquatics
The BLM-Alaska Fisheries Program supports the BLM's multiple-use mission through the collection and analysis of fish habitat and population data.
The BLM manages about 72 million acres of federal public lands in Alaska – including 127,000 miles of stream habitats and three million acres of lake habitats – about 20% of Alaska's streams and 24% of its lakes. At least 33 species of fish live in these waters. BLM's fisheries staffers study these fish habitats and the fisheries reactions to different uses of these lands. Their studies help with managing lands for multiple-use.
How large is the program?
Field work in Alaska is challenging and expensive due to weather and the remote and scattered nature of BLM-managed public lands. Eight fisheries field biologists and one fisheries program leader staff the BLM-AK fisheries program. Each of these biologists face tremendous challenges given the vast resources they are required to inventory and monitor. 
What are we aiming for?
The people of the Fisheries Program in Alaska strive to support the BLM's multiple-use mission while working to ensure that fish populations, especially those used for subsistence, and the habitats on which they depend are managed, conserved, and restored for future generations. 
Why do we do this? 
The primary function of the program is to collect and analyze information on fisheries resources and provide direction necessary for:
Compliance with laws, regulations and policies
Mineral and energy development
Land-use planning
Monitoring the effectiveness of management actions
Stream and watershed enhancement projects
Climate change analysis
Management of fish resources for subsistence use 
Recreation management