BLM initiates seasonal fire and target shooting restrictions in the California Desert District
BLM Office:
California Desert District Office
Region:
California
California Desert DO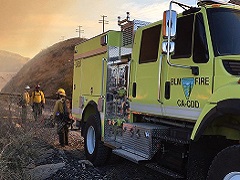 MORENO VALLEY, Calif. – The Bureau of Land Management will initiate stage II and III fire restrictions as of April 10 for BLM-managed public lands within Los Angeles, Orange, San Bernardino, Riverside, Imperial, Inyo, Kern, Mono and San Diego counties. These restrictions will remain in effect until further notice. 
Stage II and III fire restrictions address the use of campfires, controlled flame devices and smoking on public lands. All restriction information is available on the BLM California fire restrictions website at https://www.blm.gov/programs/public-safety-and-fire/fire-and-aviation/regional-info/california/fire-restrictions.
The BLM is committed to keeping public landscapes healthy and productive. "Despite winter rains, restrictions are needed due to increasingly hot and dry weather conditions and an abundance of dry grass that could easily ignite," said BLM California Desert Acting District Manager Ben Gruber. "These conditions cause wildfires that would threaten public land visitors, communities, adjacent private lands and natural resources."
In addition, on April 10, the BLM will initiate restrictions for recreational target shooting on BLM-managed public lands within San Diego, southern Kern, western Riverside, western San Bernardino and eastern Los Angeles counties until further notice. Violation of this order is punishable by a fine up to $1,000 or imprisonment of up to 12 months, or both.
The BLM appreciates the public's cooperation in helping to minimize the number of human-caused wildfires. The public is reminded to exercise extreme caution when using fire and to follow these precautions:
1)  Make sure to have a five-foot circle cleared around a campfire.
2)  Be sure to have a shovel and plenty of water on hand and put the fire DEAD OUT, before leaving. 
3)  Make sure cigarettes or cigars are put out when finished and disposed of properly. 
4)  Park motor vehicles away from locations where exhaust could cause grass or other combustibles to ignite.
For more information contact the California Desert District Office, 951-697-5200; Barstow Field Office, 760-252-6000; El Centro Field Office, 760-337-4400; Needles Field Office, 760-326-7000; Palm Springs-South Coast Field Office, 760-833-7100; or Ridgecrest Field Office, 760- 384-5400.
---
The BLM manages more than 245 million acres of public land located primarily in 12 western states, including Alaska, on behalf of the American people. The BLM also administers 700 million acres of sub-surface mineral estate throughout the nation. Our mission is to sustain the health, diversity, and productivity of America's public lands for the use and enjoyment of present and future generations.