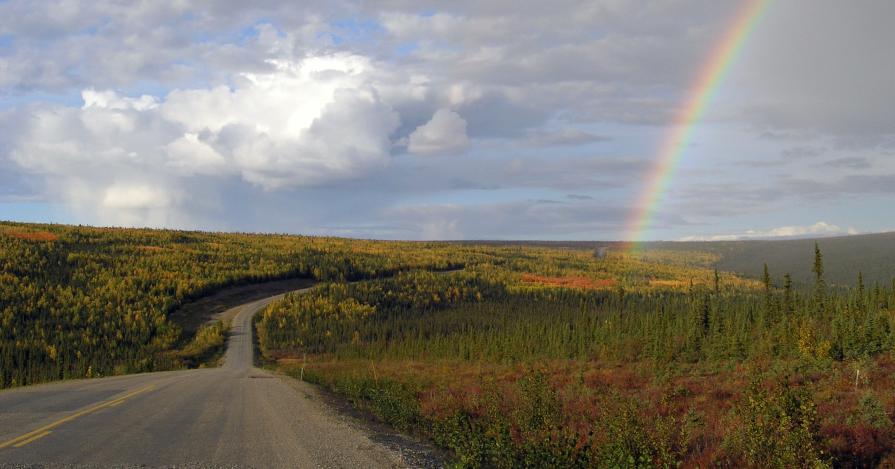 Dalton Highway Recreation
Ultimate Road Adventure 
The 414-mile Dalton Highway is one of the most isolated roads in the United States. Built during construction of the trans-Alaska oil pipeline in the 1970s, this mostly gravel highway travels through rolling, forested hills, across the Yukon River and Arctic Circle, through the rugged Brooks Range and across the North Slope to the Arctic Ocean.
You'll find few services along the way — just forest, tundra and mountains, crossed by a ribbon of road and pipe. For those seeking the ultimate road adventure, Dalton Highway offers world-class recreation opportunities. The BLM manages public lands and maintains several recreational facilities along the highway from the Yukon River to the north side of the Brooks Range.
Know Before You Go 
Review the safety information in the Visitor Guide (PDF) or on the Dalton Highway Visit webpage to be sure that you're adequately prepared.
Pack it In – Pack it Out
The BLM hauls approximately 20 tons of litter from the Dalton Highway back to Fairbanks (the nearest landfill) each year. Please help reduce waste and litter by packing out everything you pack in.  
Hiking

Camping

Boating

Gold Panning

Fishing

Hunting

Kids Activities

Artist In Residence
Current Traveler Alerts
Temporary closure: For public and environmental health, the RV dump station at Five Mile Campground is out of service and will be closed until repairs are completed. 
While in the construction zones please stay in your lane and do NOT try to pass other vehicles.
Watch for wildlife on and near the road, including moose, grouse, ptarmigan, and caribou.
Always drive with headlights on.
Summer conditions: Be prepared for long stretches of mud and/or dust depending on recent weather conditions. Gravel sections require regular maintenance throughout the summer and equipment may be present on the roadway.
For more detailed information about travel conditions and construction refer to the Alaska Department of Transportation and Public Facilities' Traveler 511 webpage, which offers site-specific warnings and webcams. 
Check back here for alerts including information on closures, severe weather events, wildlife warnings or wildfire activity.