Rock climbing helps students step outside their comfort zones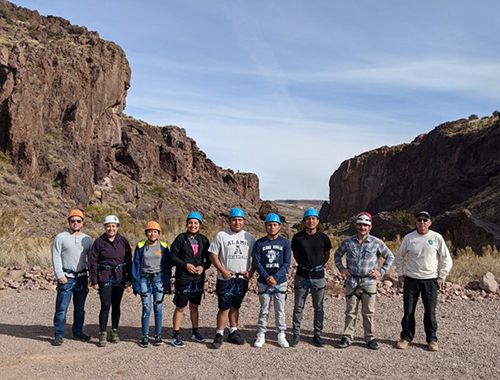 The BLM Socorro Field Office, New Mexico Tech University, and Alamo Navajo High School came together to provide a unique learning opportunity for high school students on public lands. Five of Alamo's high school students were invited to participate in a rock climbing class taught by Scott Roberts, head of New Mexico Tech Recreation and Rock Climbing Club.

The event was hosted by Socorro BLM's Park Ranger Mike Comiskey at The Box Special Recreation Management area.
On a sunny November day, students and teachers volunteered their time for the rock climbing course in the rugged Box Canyon Recreation Area. What began as a nerve-racking, highly anticipated activity, quickly turned into a fun team building experience where students stepped out of their comfort zones and encouraged one another. 

Outdoor education opportunities such as these are typically unavailable to students in rural parts of New Mexico. The hope is that the Socorro Field Office can continue to partner with local schools and universities to provide these unique team building experiences for students. When they go back home, they can take this knowledge with them. 
 
Office
100 Sun Avenue, NE
Pan American Building, Suite 330
Albuquerque, NM 87109
United States