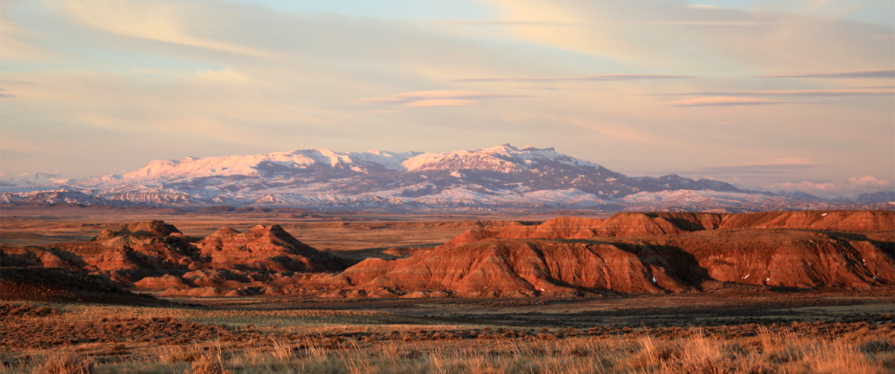 McCULLOUGH PEAKS WILDERNESS STUDY AREA
Values
The McCullough Peaks WSA encompasses 23,290 acres of BLM-administered land, 640 acres of split-estate land, and 640 acres of state-owned land. The WSA consists of the badlands that form the north slope of the McCullough Peaks. The terrain is characterized by sharp ridges and deeply eroded drainages. There are also large expanses of open, gentle terrain. The area is scenic and provides opportunities for solitude and primitive recreation. The panoramic views from the top of McCullough Peaks are outstanding and include not only the study area's badlands but views of Heart Mountain, the Beartooth Mountains, and the Absaroka Range.
Visitation Information
To reach the McCullough Peaks WSA from the south, from Cody take U.S. Highway 14/16/20 east toward Greybull for about 5 miles. Turn north (left) onto the McCullough Peaks Road #1212. This well-graded road is directly across the highway from the Cody Archery Range. You will reach the southern border of the McCullough Peaks about 8 miles up Road 1212. Road 1212 follows the southern WSA boundary for about 2 miles before it turns south and travels another 11 miles back to U.S. Highway 14/16/20. To reach the McCullough Peaks WSA from the northwest, from Cody, take U.S. Highway 14 Alt. northeast toward Powell for about 11.5 miles. Turn south (right) onto County Road 18. Follow County Road 18 for approximately 0.7 miles, then turn east (left) onto County Lane 15. Follow County Lane 15 east for about 1.4 miles, then turn south (right) onto the gravel BLM Road 1211. After traveling south on Road 1211 for about 0.75 miles, you will reach the boundary of the WSA. From there, you can choose to travel roads along either the western or northern boundary of the WSA.
Visitor Advisory
Access to wild lands inherently requires good navigational skills and four-wheel drive or high-clearance vehicles. Visitors should be prepared for adverse weather and road conditions. The WSAs in the BLM Field Office are primarily accessed by unnamed or unsigned two-track roads that in many cases may be difficult to find without sufficient navigational skills and equipment.
Wilderness Study Areas
WSAs are undeveloped federal lands that retain their primeval character and influence, without permanent improvements or human habitation, and are managed so as not to impair their suitability for preservation as wilderness. Backcountry recreation is a common use along with Leave no Trace Outdoor ethics. Please be advised these areas are restricted and do not allow for the use of motorized and mechanized equipment.