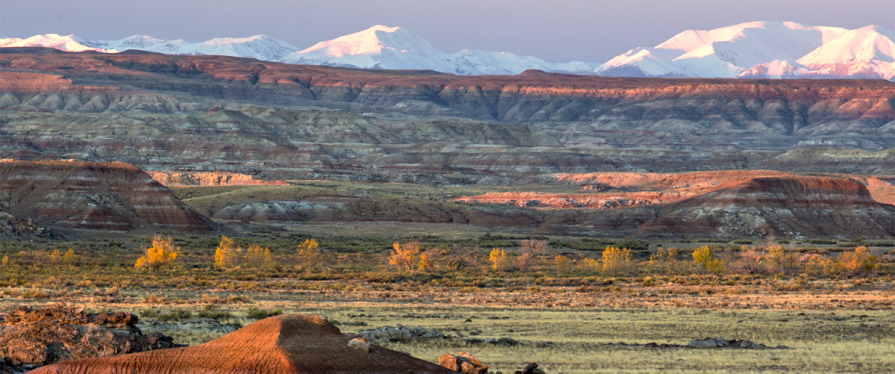 BOBCAT DRAW BADLANDS WILDERNESS STUDY AREA
Values
The Bobcat Draw Badlands WSA encompasses 17,150 acres of BLM-administered land and 1,390 acres of state land. The WSA offers special features and scenic beauty which are outstanding. Terrain in the unit is highly unique and variable in land form and color. Located in the Willwood geologic formation, it is famous for a "Devil's Garden" of arches, goblins, castles and other fantastic or fanciful landforms. The WSA in within the Fifteenmile Wild Horse Herd Management Area. The National Park Service has identified the Gooseberry Badlands and the east ridge of Fifteenmile Creek, located near the WSA, as potential National Natural Landmarks.
Visitation Information
To reach WSA from the south, take State Hwy 431 out of Worland about 25 miles. Turn north (right) onto the Murphy Draw Road (BLM Road 1302) and continue about 7.7 miles. Turn east (right) onto Squaw Teats Road (BLM Road 1301) and go 2.6 miles. Look for primitive route to the north to reach Bobcat Draw Badlands WSA in 1.25 miles. If travelling from Meeteetse, take State Highway 120 south for 9.1 miles. Turn east (left) onto Squaw Teats Road (BLM Road 1301) for 14.25 miles. Look for a primitive route to the north reach Bobcat Draw Badlands WSA in 1.25 miles. From the north of Worland take Fifteen Mile Road (BLM Road 1429). After travelling approximately 33 miles you will reach the northern border of Bobcat Draw Badlands WSA.
Visitor Advisory
Access to wild lands inherently requires good navigational skills and four-wheel drive or high-clearance vehicles. Visitors should be prepared for adverse weather and road conditions. The WSAs in the BLM Field Office are primarily accessed by unnamed or unsigned two-track roads that in many cases may be difficult to find without sufficient navigational skills and equipment.
Wilderness Study Areas
WSAs are undeveloped federal lands that retain their primeval character and influence, without permanent improvements or human habitation, and are managed so as not to impair their suitability for preservation as wilderness. Backcountry recreation is a common use along with Leave no Trace Outdoor ethics. Please be advised these areas are restricted and do not allow for the use of motorized and mechanized equipment.