A full range of colors is present - this herd has a lot of color in it, many of which are paints. Other colors are bay, sorrel, red roan, black, or gray. The Wyoming horses have a diverse background of many domestic horse breeds. They are most closely related to North American gaited breeds such as Rocky Mountain Horse, American Saddlebred, Standardbred, and Morgan. 
Location: The White Mountain Herd Management Area (HMA) encompasses over 393,000 acres of which over 240,000 acres are BLM-administered public lands. The majority of the HMA consists of checkerboard land ownership within the Union Pacific Railroad grant. Consolidated public lands with state school sections and small parcels of private land make up the remaining lands in the northeast section of the HMA.  
Size: More than 393,000 acres.
Topography/Vegetation: The HMA is a high plateau that overlooks Rock Springs. Precipitation ranges six-ten inches, predominately in the form of snow. The area is unfenced except for portions of boundary fence and right-of-way boundaries along Interstate 80 and Highway 191 North. Vegetation in the HMA is dominated by sagebrush and grass, with saltbrush, winterfat and greasewood intermixed. Horses typically use a high amount of grass species, the most favorable being needlegrass, Indian ricegrass, wheatgrass and sedges.
Wildlife: The area supports significant wildlife populations including elk, deer and antelope. Domestic cattle and sheep utilize the area lightly in the summer and moderately in the winter.
AML: 205-300
Pilot Butte Wild Horse Scenic Tour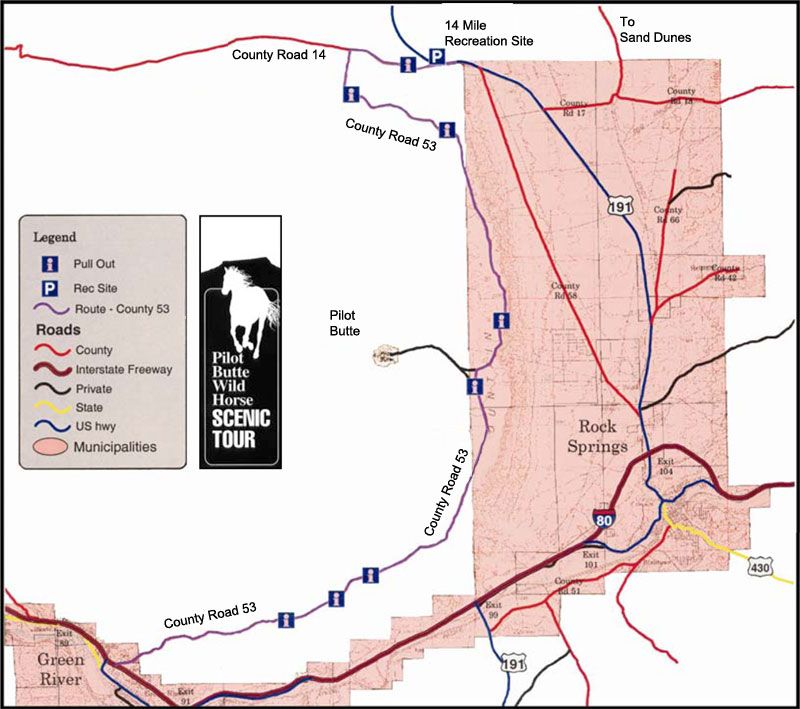 The 24-mile self-guided Pilot Butte Wild Horse Scenic Tour can begin in either Green River or Rock Springs. Travelers should plan on approximately 1.5 hours to complete the tour, most of which is on a gravel road.   

Watch for wild horses between Rock Springs and 14-Mile Hill, and all the way across the top of White Mountain. Although this is a relatively dry area with sparse vegetation, it is also home to a variety of wild animals, including pronghorn, elk, deer, rabbits, coyotes, hawks, eagles and sage-grouse, among others. Wildlife viewing is best in the early morning and late afternoon hours. 

The majority of wild horses in Wyoming are located in the southwestern part of the state. The appropriate management level for wild horses in Wyoming is approximately 2,490 to 3,725 horses. Approximately 1,100 to 1,600 wild horses can be found on the public lands managed by the Rock Springs Field Office. 
For more information about the Pilot Butte Wild Horse Scenic Tour or wild horses in general, please contact the Rock Springs Field Office at 280 Highway 191 North, Rock Springs, WY, 82901; or call 307-352-0256.
Getting there: 
From Rock Springs: Take exit 104 off of I-80 and travel north on Elk Street/Highway 191 approximately 14 miles to County Road 4-14 (Fourteen-Mile Road). Turn left onto 4-14 and travel 2.5 miles, then turn left onto County Road 4-53. Follow 4-53 south for 21.5 miles to Green River.
From Green River: Exit I-80 to Flaming Gorge Way.
Turn north onto Wild Horse Canyon Road.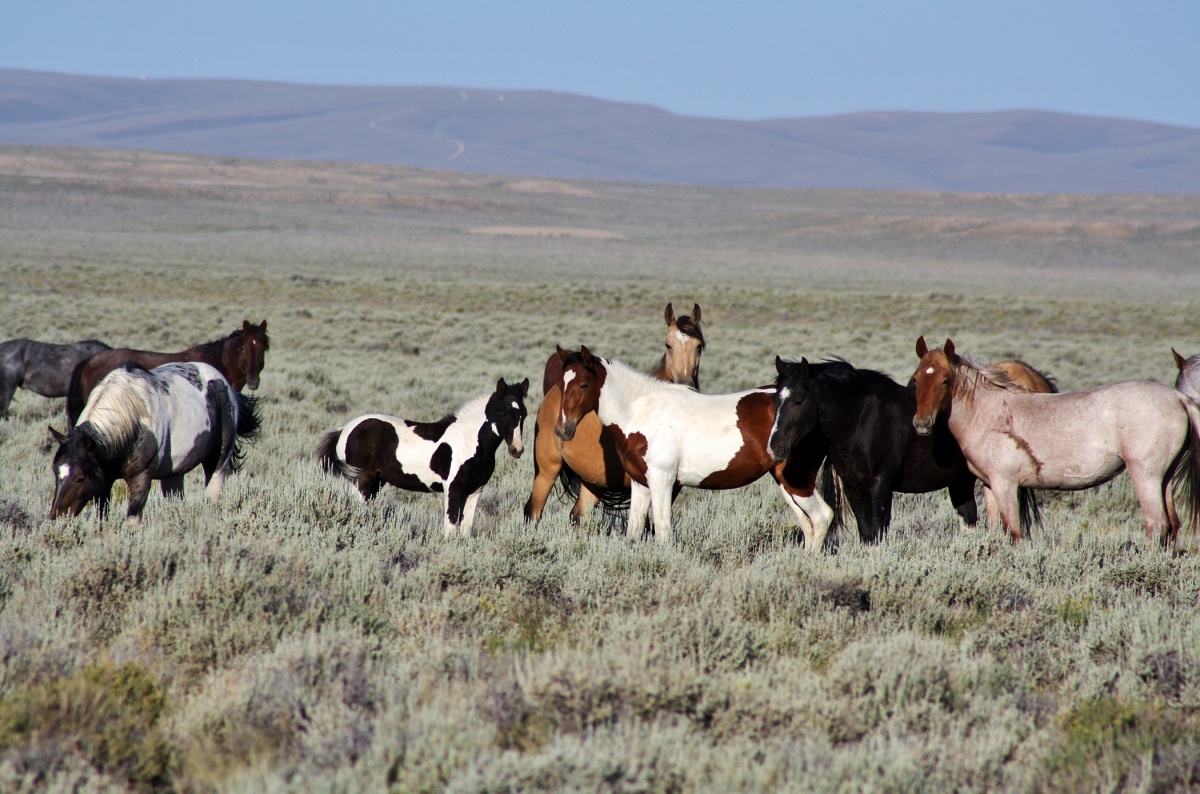 Photo by Jay D'Ewart