BLM Utah Mountain Biking Opportunities: Red Fleet and McCoy Flats Trail Systems
The Red Fleet and McCoy Flats trail systems offer some of the best single track mountain biking opportunities in the state of Utah. When combined, these systems provide approximately 60 miles of mountain biking trails. With a stacked looped system, you can combine different trails to add some distance and challenge.
BLM managed lands throughout the Uinta Basin offer excellent mountain biking opportunities for riders of all skill levels. Riders can enjoy the many miles of unpaved roads or seek out more adventurous routes on the areas numerous singletrack trails. The Uinta Basin offers a unique variety of singletrack, from narrow desert trails in the Red Fleet and McCoy Flats areas, the forested and rocky Flume Trail in Dry Fork Canyon, or the technical challenge of the Rojo Trail.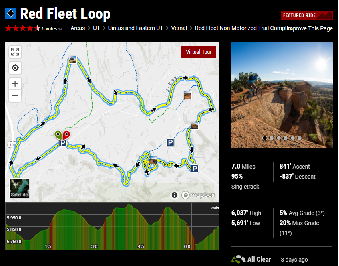 The Red Fleet loop is a clockwise tour of the flowing singletrack and slick rock trails in the Red Fleet trail system. The loop has lots of up and downs with sweeping views of the surrounding desert landscape. 
One of the Bureau of Land Management's "Backyard to Backcountry" treasures, this trail was developed between IMBA and the Vernal, UT BLM office to provide world-class riding experiences.For detailed information on the Red Fleet Loop, including elevations, ratings, current conditions, photos, and comments, click on the image or select this link. 
Need to Know





Plan Your Visit
Season Dates: January 1 - December 31
Fee: Varies
Size: 60+ miles
Elevation Gain/Loss: 2,000+ feet
Difficulty: Trails range from beginner to advanced
Directions
From Vernal, drive north on Highway 191 approximately 11.3 miles.  Turn east on paved road and travel 2.3 miles.  The trailhead is on the south side of the road
Quick Links
Contact Information
Vernal Field Office
170 South 500 East
Vernal, UT 84078
435-781-4400
CONNECTING WITH COMMUNITIES
The BLM and MTB Project are Connecting with Communities through a National partnership to provide an interactive ride experience. MTB project hosts the next generation of mountain bike trail maps. Click the MTB Project icon to access all the information you'll need to plan your next ride.