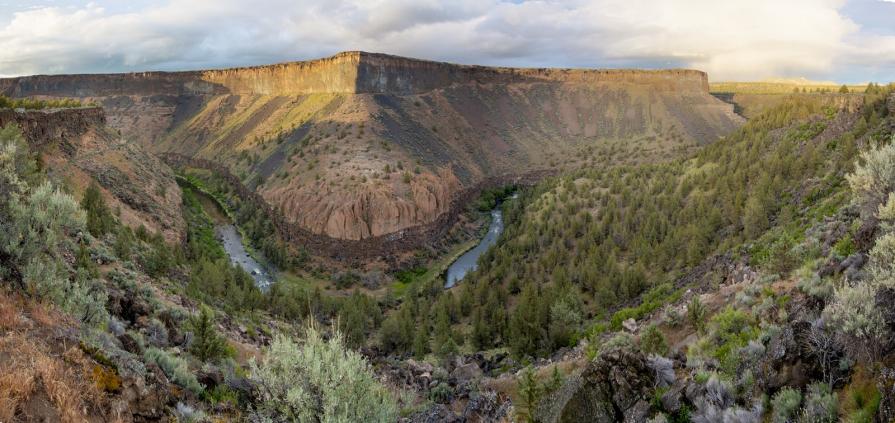 Crooked Wild and Scenic River
Originating in the lush Ponderosa pine forests of Central Oregon's Ochoco Mountains, the Crooked River flows through diverse landscapes before descending through a desert gorge to its impounded confluence with the Deschutes River at Lake Billy Chinook. Known for its world class fishing opportunities, the Crooked River Wild and Scenic River is comprised of three distinct geographic areas: the North Fork, the Chimney Rock segment and the Lower Crooked River.
A range of primitive to developed recreation opportunities is available to those visiting the Crooked Wild and Scenic River. Hike-in fishing and primitive camping areas of the North Fork provide ample solitude in a Wilderness Study Area setting. The Chimney Rock segment offers 97 developed campsites and two group-use areas located mere feet from the Crooked River.
Designations

Designations

All three reaches of the Crooked River were designated by the 100th US Congress as Wild and Scenic on October 28, 1988 in the Omnibus Oregon Wild and Scenic Rivers Act of 1988.

North Fork: From its source at Williams Prairie to one mile from its confluence with the Crooked River. Classification by miles: Wild-12.2, Scenic-8.2, Recreational-13.3, totaling 33.7 miles. The upper 14.7 miles are administered by the US Forest Service and the downstream 17.6 miles are managed by the BLM.

Chimney Rock segment: The 8-mile segment of the Lower Crooked River between Bowman Dam and State Scenic Highway 27 mile marker 12 is classified as a recreational river area.

Lower Crooked River: From the National Grassland boundary near Peter Skene Ogden State Scenic Viewpoint to river mile 8, totaling 9.8 miles is classified as a recreational river area.

Other Designations

Approximately 9.9 miles of the North Fork of the Crooked River runs through the North Fork Wilderness Study Area, an area noted for its outstanding opportunities for solitude and primitive recreation. Portions of this wild and scenic river corridor also overlap with two Research Natural Areas: Forest Creek - Rough Canyon and Forest Creek - Fox Canyon. These areas are highlighted for their representative examples of certain eastside riparian and plant associations. The North Fork Crooked River Area of Critical Environmental Concern extends beyond the WSR boundary to provide upland watershed protection.

Due to its outstanding scenic qualities, 43 miles of State Highway 27 from Prineville south to State Highway 20 including the Chimney Rock segment has been designated a Back Country Byway by the Bureau of Land Management. The BCB provides opportunities for viewing the Crooked River from both great heights and alongside the river. Ample river access is available at the many recreation sites or at roadside pullouts. South of the Chimney Rock segment, Highway 27 is noted for being Oregon's only unpaved State Highway. A Back Country Byway portal kiosk is located in Prineville just south of Crooked River Park.

Along the Chimney Rock segment, a portion of State Highway 27 is under consideration as the Oregon's newest State Scenic Bikeway. The 17-mile out-and-back ride from Prineville has its southern terminus at Big Bend Campground just north of Bowman Dam. More information including ride profiles about the Scenic Bikeway can be found here: https://ridewithgps.com/ambassador_routes/15-crooked-river-canyon-proposed-scenic-bik

Outstandingly Remarkable Values

Botanic

North Fork: Old-growth Ponderosa pine is the headline act in the river corridor. Other players among the wide assortment of species include upland sagebrush, juniper and mountain mahogany.
Chimney Rock segment and Lower Crooked River: In addition to supporting a wide variety of botanical resources, the Crooked River possesses a unique stand of mature white alder/red-osier dogwood in an area that is in near-pristine condition and is also suspected to contain of Estes' wormwood.

Geologic

Chimney Rock segment and Lower Crooked River: Fifty million years of geologic history are dramatically displayed on the canyon walls of the Crooked River. Volcanic eruptions which occurred over thousands of years created a large basin dramatized by colorful layers of basalt, ash and sedimentary formations. The most significant contributor to the outstandingly remarkable geologic resource are the unique intra-canyon basalt formations created by recurring volcanic and hydrologic activities.

Hydrologic

Chimney Rock segment and Lower Crooked River: Water from springs and stability of flows through the steep basalt canyon section of the Crooked River has created a stream habitat and riparian zone that is extremely stable and diverse, unique in a dry semi-arid climate environment. Features, such as springs and seeps; white water rapids; water sculpted rock; and the river canyons, are very prominent and represent excellent examples of hydrologic activity within central Oregon.

Recreational

North Fork: The canyon sections of the river provide relatively pristine opportunities for fishing, hiking, hunting and other semi-primitive experiences. The remoteness, solitude, natural beauty and a wide variety of flora and fauna contribute to the recreation values.
Chimney Rock segment and Lower Crooked River: The Crooked offers a diversity of year-round recreation opportunities, such as fishing, hiking, backpacking, camping, wildlife and nature observation, whitewater boating, picnicking, swimming, hunting and photography. The Chimney Rock segment is popular for camping, fishing, hiking, bicycling and for viewing eagles, ospreys and other wildlife. The 2.6-mile (round trip) hike to Chimney Rock rewards visitors with expansive views of the Crooked River Canyon and Cascades. The lower section offers a semi-primitive experience due to its remoteness, and a portion of the river is noted for high quality class IV-V whitewater paddling.

Scenic

North Fork: Outstanding scenic views include wet meadows, rocky cliffs and old-growth Ponderosa pine forests. Downstream from the river's confluence with Deep Creek, the landscape elements include steep-sided volcanic canyons interspersed with old-growth Ponderosa pine forests and riparian meadows.
Chimney Rock segment and Lower Crooked River: The exceptional scenic quality along the Crooked River is due to the rugged natural character of the canyons, outstanding scenic vistas, limited visual intrusions and scenic diversity resulting from a variety of geologic formations, vegetation communities and dynamic river characteristics. State Scenic Highway 27, a designated National Back Country Byway, offers views of western juniper decorating the steep hillsides, spectacular geologic formations and eroded lava flows throughout the narrow, winding canyon corridor.

Wildlife

North Fork: Mule deer, elk, coyotes and various birds of prey use the river corridor for feeding, nesting, shelter, or travel, and bald eagles use the river corridor during the winter. Wild rainbow and redband trout occur throughout the river.
Chimney Rock segment and Lower Crooked River: The river supports critical mule deer winter range habitat and nesting/hunting habitat for bald eagles, golden eagles, ospreys and other raptors. Bald eagles are known to winter within the Crooked River segment. Outstanding habitat areas include high vertical cliffs, wide talus slopes, numerous caves, pristine riparian zones and extensive grass/sage covered slopes and plateaus.

Recreation

Access and Interpretive Information

The North Fork of the Crooked River is popular with hunters seeking remote big game opportunities, primarily elk and deer. A seasonally-open gate at Telephone Springs limits motorized use annually from April 30 to December 1 to protect wildlife. High-clearance vehicles are advised to access some of the area's backcountry. No roads in the North Fork directly access the Crooked River on BLM lands; a hike-in is required.

The Chimney Rock segment includes a Wild and Scenic River information kiosk located 17 miles south of Prineville on State Highway 27. Here, visitors can obtain updated messages and view a river corridor map.

No roads directly access the Lower Crooked River; one must hike in from the Otter Bench trailhead in Crooked River Ranch.

Day-Use and Camping

Along the Chimney Rock Segment, two day-use areas are available: Greenwood and Upper Lone Pine Recreation Sites. Each has fishing access, picnic tables and a vault toilet. No fee is charged.

The Chimney Rock segment offers the only developed camping along the Crooked River. Nine non-reservable campgrounds are available year-round for a fee of $8 per night for individual campsites. Two group campsites located at Lone Pine and Big Bend Campgrounds are available for $16 per night and extra vehicles cost an additional $2 per night at all sites. Drinking water is available only at Chimney Rock Campground. Fishing platforms are available at Palisades and Chimney Rock campgrounds.

Chimney Rock Segment Campgrounds and Day-Use Areas

Castle Rock Campground, 12.4 miles south of Prineville on Highway 27
Stillwater Campground, 13.5 miles south of Prineville on Highway 27
Greenwood Day-Use Area, 14.4 miles south of Prineville on Highway 27
Lone Pine Campground, 14.8 miles south of Prineville on Highway 27
Upper Lone Pine Day-Use Area, 14.9 miles south of Prineville on Highway 27
Palisades Campground, 15.3 miles south of Prineville on Highway 27
Chimney Rock Campground, 16.4 miles south of Prineville on Highway 27
Cobble Rock Campground, 17.1 miles south of Prineville on Highway 27
Post Pile Campground, 18.0 miles south of Prineville on Highway 27
Poison Butte Campground, 8.3 miles south of Prineville on Highway 27
Big Bend Campground, 19.2 miles south of Prineville on Highway 27

Trails

The North Fork of the Crooked River has no designated trails; however, some former roads have given way to natural reclamation and are accessible to those with cross-country navigation skills.

The Chimney Rock trail is the sole hiking trail along the more developed Chimney Rock segment and is accessed across State Highway 27 from its namesake campground. The moderately-steep out-and-back trail gains 500 feet over 1.4 miles and ends at the foot of Chimney Rock. Wide open rimrock views offer vistas of basalt lava, the Crooked River below and old-growth Western juniper trees. Bicycles and horses are not allowed on the Chimney Rock trail.

Located on the bench atop the gorge of the Lower Crooked River, the 7.4 mile Otter Bench trail system includes an expansive network of trails over near-vertical canyon walls and is generally open to hiking, mountain biking and equestrian. The steep, staircase-like descents of the Lone Pine and Pink trails make these two trails open to hiking only. Due the presence of nesting raptors nearby, the Horney Hollow trail is closed seasonally from February 1 through August 31.

River Access and Boating

The North Fork and Lower Crooked River are generally inaccessible to most floaters due to low flows or the expert skill level required of them (up to Class V rapids are present). Only the Chimney Rock segment offers both almost continuous riverside access and some boat-able water during Spring-season flows. Still, advanced boating skills area required to float this section. Hike-in, informal fishing access is available along the North Fork of the Crooked River. However, The Lower Crooked River has only two river access points both of which require a steep hike-in descent into the gorge. Rattlesnakes are common here in the warm months of the year.

Fishing

The North Fork segment is known for its wild rainbow and redband trout and one must hike to get to remote fishing holes where you are likely to find solitude under old-grown Ponderosa pine trees. The Chimney Rock segment is a classic tail-water fishery, open to fly-fishing year-round. This segment offers great dry fly and nymph fishing and is excellent for beginning fly fishers. The Lower Crooked River offers a remote hike-in experience to the river but with limited options for explorations beyond due to the presence of blocking boulders and thick vegetation.

River Management

Planning for river management is an essential part of preserving the outstanding remarkable values for which each river was designated as wild and scenic. A river management plan has been created for each of the three reaches of the Crooked Wild and Scenic River: