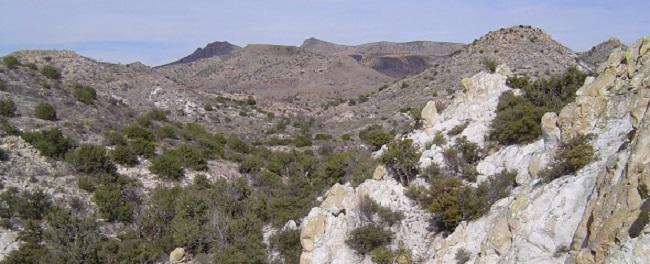 Baker Canyon Wilderness Study Area
Values
The 4,812 acre Baker Canyon Wilderness Study Area is unusually rich in wildlife. It is part of a wildlife corridor connecting ecosystems in Arizona, New Mexico, and Mexico. Bird life is extraordinary with unusual species of hummingbirds, trogons, and turkey, among others. The Wilderness Study Area is also home to a variety of animal species including bats, coatimundi, Coues' white-tailed deer, bobcat, mountain lion, and several species of bats. Interesting plants species, including Chihuahua pine, Mexican pinyon, and Arizona rosewood (a federal candidate threatened and endangered species), have been identified.
Visitation Information
The Wilderness Study Area is 30 miles east of Douglas, Arizona, in Cochise County. All WSA lands are federally administered. Some lands surrounding the WSA are not. Respect property rights: cross or use these lands only with landowner permission. Know where you are at all times, follow good safety procedures and use common sense. Public access is not available across private lands adjacent to the Wilderness Study Area. For more details on access, contact the BLM Safford Field Office.
Visitor Advisory
The WSA is near the international border with Mexico. Be aware smuggling activities occur in the region. Do not intervene in activity that looks illegal, suspicious or out of place. Note your location, call 911, or report activity or distressed people to a law enforcement officer as quickly as possible. Do not pick up or approach hitch hikers. Keep valuables and money out of sight. Lock your vehicle.