The BLM administers the Federal onshore oil and gas leasing program in Alaska, as well as issues permits for geophysical exploration, permits to drill oil and gas wells, and authorizations to construct pads and install production facilities. 
Oil and gas leasing on Alaska's Federal lands is concentrated in three regions: the Cook Inlet Region on both sides of the Cook Inlet, and along Alaska's North Slope the National Petroleum Reserve in Alaska (NPR-A) and the Coastal Plain of the Arctic National Wildlife Refuge (ANWR).
Oil companies pay annual lease rentals and royalties on oil and gas production to the Office of Natural Resource Revenue. The State of Alaska receives 90% of rents and royalties from its oil and gas leases in the Cook Inlet Region, and the State receives 50% of the bonus bids, rents, and royalties from both the NPR-A and Coastal Plain.
COOK INLET: Exploration and production in the Cook Inlet Region began in the 1950s and continues to contribute to Alaska's economic and energy needs. Natural gas produced from this region is a vital resource for communities as Anchorage and southcentral Alaska. All gas-fired electric plants in Southcentral rely on Cook Inlet as their fuel source.
NPR-A: The NPR-A generated more than $56M in oil and gas lease revenue in 2019.  It includes approximately 23 million acres of federal mineral estate nationwide and is an important resource for meeting America's energy needs. Exploration in the NPR-A has three distinct exploration periods: the first two were government-led efforts from 1945-1952 and 1975-1981 and resulted in several discoveries but no sustainable production.  The third period of exploration continues today, and it began following the1999-2010 lease sales in the NPR-A. This exploration period has resulted in several discoveries.
COASTAL PLAIN: The 2017 Tax Act (Public Law 115-97) directs the BLM to conduct two sales in the Coastal Plain of the Arctic National Wildlife Refuge offering at least 400,000 acres of high-potential hydrocarbon lands for bid by 2024 to be managed similar to the administration of lease sales under the Naval Petroleum Reserves Production Act of 1976 (including regulations).
The BLM conducted its first lease sale in the Coastal Plain of ANWR Jan. 6, 2021, pursuant to the Coastal Plain Oil and Gas Leasing Program August 2020 Record of Decision (ROD) with any future oil and gas development actions requiring a separate detailed environmental analysis.
Secretary of the Interior Order 3401: In June 2021 suspended all activities related to implementing the Coastal Plain Oil and Gas Leasing Program pending completion of a comprehensive analysis under the National Environmental Policy Act.
An Aug. 4, 2021, Federal Register notice of intent to prepare a supplemental environmental impact statement initiated the scoping process to begin the comprehensive analysis of potential environmental impacts, including addressing deficiencies identified in the Secretary's order.
Coastal Plain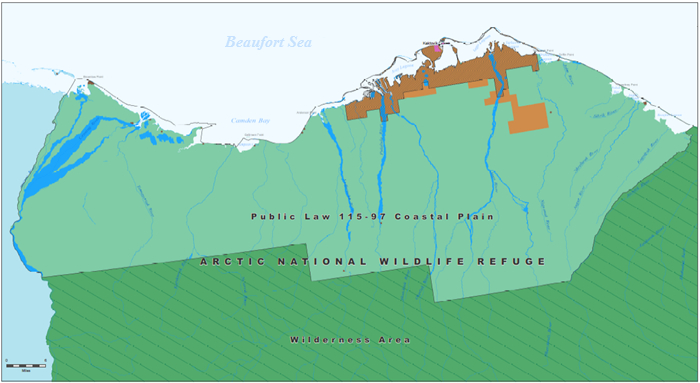 Learn more about the Coastal Plain