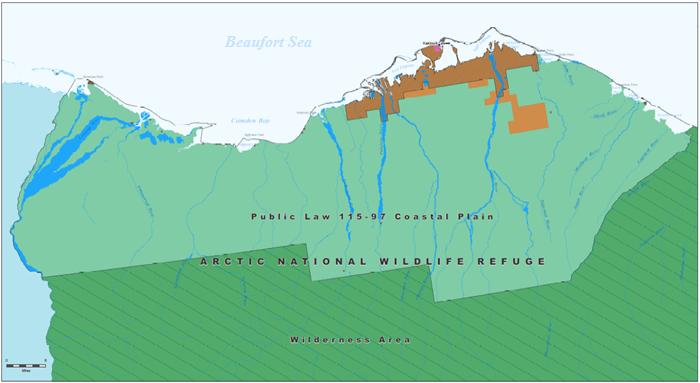 Coastal Plain of the Arctic National Wildlife Refuge
The 1,563,500-acre ANWR oil and gas program area referred to as the "Coastal Plain" is located along the coast of the approximately 19.3 million-acre Arctic National Wildlife Refuge (ANWR) on Alaska's North Slope. It is in the northwestern portion of the refuge immediately adjacent to the Beaufort Sea (Arctic Ocean) located to the north.
The Coastal Plain oil and gas program will be carried out pursuant to the Tax Act (Public Law 115-97, Dec. 22, 2017). The act directs the BLM to conduct two lease sales by 2024 and requires that:
All necessary rights-of-way and easements for exploration, development, production, or transportation be issued and
Surface acres of Federal land be authorized to be covered by production and support facilities.
The Act sets the royalty rate for leases at 16.67 percent. 
The required lease sales will be held pursuant to the Coastal Plain Oil and Gas Leasing Program August 2020 Record of Decision (ROD). The first lease sale was conducted Jan. 6, 2021.
Any future oil and gas development actions will require a separate detailed environmental analysis.