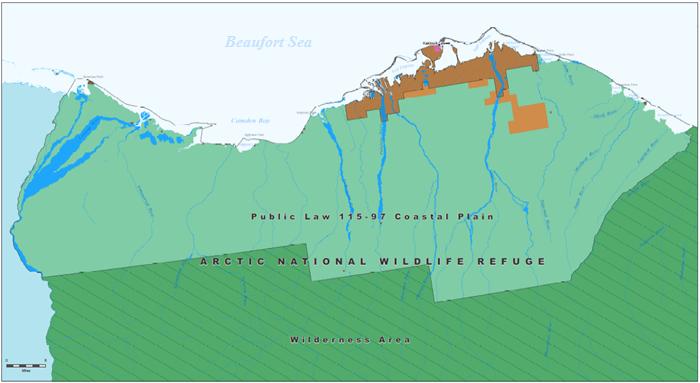 Coastal Plain of the Arctic National Wildlife Refuge
The 1,563,500-acre ANWR oil and gas program area referred to as the "Coastal Plain" is located along the coast of the approximately 19.3 million-acre Arctic National Wildlife Refuge (ANWR) on Alaska's North Slope. It is in the northwestern portion of the refuge immediately adjacent to the Beaufort Sea (Arctic Ocean) located to the north.
The 2017 Tax Act (Public Law 115-97) directs the BLM to conduct two sales in the Coastal Plain offering at least 400,000 acres of high-potential hydrocarbon lands for bid by 2024 to be managed similar to the administration of lease sales under the Naval Petroleum Reserves Production Act of 1976 (including regulations). The Act sets the royalty rate for leases at 16.67 percent. 
The BLM conducted its first lease sale in the Coastal Plain of ANWR Jan. 6, 2021, pursuant to the Coastal Plain Oil and Gas Leasing Program August 2020 Record of Decision (ROD) with any future oil and gas development actions requiring a separate detailed environmental analysis.
On Jan. 20, 2021, the White House issued Executive Order 13990, calling on the Department of the Interior to put a temporary moratorium on all activities related to the Coastal Plain Oil and Gas Leasing Program, to review the existing Environmental Impact Statement (EIS), and potentially conduct another analysis on environmental impacts. 
In June 2021, the Secretary issued Secretary of the Interior Order 3401, which suspended all activities related to implementing the Coastal Plain Oil and Gas Leasing Program pending completion of a comprehensive analysis under the National Environmental Policy Act.
An Aug. 4, 2021, Federal Register notice of intent to prepare a supplemental environmental impact statement initiated the scoping process to begin the comprehensive analysis of potential environmental impacts, including addressing deficiencies identified in the Secretary's order.
The comment period ended on October 4, 2021. Information received during this process will influence the breadth and development of a Supplemental Environmental Impact Statement. Information collected during scoping may also be used to develop the alternatives analyzed in the Supplemental Environmental Impact Statement. 
In accordance with the BLM NEPA Handbook, the BLM must document the public scoping results. This scoping report  summarizes the scoping process and the comments received during the formal scoping period, including those provided during internal and public scoping meetings.
On September 6, 2023, the Department of the Interior, BLM and the U.S. Fish and Wildlife Service announced the availability of the Draft Supplemental Environmental Impact Statement for the Coastal Plain Oil and Gas Leasing Program. The updated documents are available for public review and comment on the BLM's NEPA Register.