Greater Sage-grouse Selected Links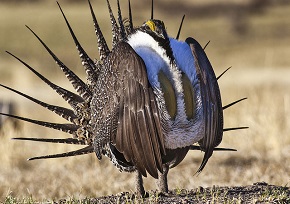 The following links have been identified by BLM Librarians as potentially useful to individuals working on or interested in the BLM's Greater sage-grouse conservation initiative. 
We continue to add resources to our subject guides; please send us suggestions for additional links to include here.
For assistance, please contact the BLM Library. 
Return to the Greater Sage-grouse Subject Guide.
---
Outlines the Bureau's initiative for Greater sage-grouse and sagebrush habitat conservation. Includes pages focusing on conservation, documents and resources, news and information, and frequently asked questions. Also includes links to BLM sage-grouse conservation programs by state.
This subscription resource is available to BLM users only. Species profile for Greater sage-grouse, including species description, natural history, behavior, and management. The Birds of North America Online is a database from the Cornell Lab of Ornithology and the American Ornithologists' Union.
Numerous resources available from the Colorado Division of Parks and Wildlife, part of the Colorado Department of Natural Resources. Find links at the "Greater sage-grouse" heading, partway down the page in the "Birds" table.
The Bureau of Land Management has organized pertinent geospatial data relating to the BLM Greater Sage-grouse Planning Strategy.
Scientific information portal focused on sagebrush ecosystem management, created in response to a Secretarial Order that "sets forth enhanced policies and strategies for preventing and suppressing rangeland fire and for restoring sagebrush landscapes impacted by fire across the West."
Strategy, plans, maps, and more information supporting the state of Idaho's Greater sage-grouse conservation and management.
Includes links to the state of Montana's final management plan and revised environmental assessment pertaining to sage-grouse management and conservation.
Information from the state of Nevada, including a Greater sage-grouse habitat categorization map, conservation projects, and planning efforts.
Provides links to documents and maps supporting the Oregon Greater sage-grouse conservation assessment and strategy, as well as local implementation team minutes and information on sage-grouse in Oregon.
Includes downloads of research performed by the website author, focusing on genetics and population structure.
Profiles the Greater sage-grouse, including population details and conservation plans.
Database of spatial data needed for research and management of sage-grouse and shrubsteppe systems.
U.S.G.S. Open-File Report 2015-1155; Chapter 23 focuses on Greater sage-grouse
Provides links to the state of Utah's conservation and management plans, local working groups, GIS data, and management guidelines.
Includes publications and project information for Washington State Greater sage-grouse conservation efforts.
Provides links to plans, maps, updates, and other information pertaining to the state of Wyoming's Greater sage-grouse conservation efforts.