Greater Sage-grouse Planning/NEPA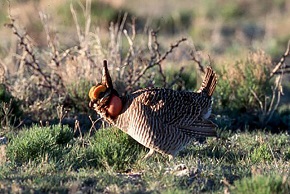 The following planning and National Environmental Policy Act (NEPA) documents have been identified by BLM Librarians as relevant to the BLM's Greater sage-grouse conservation initiative.
The latest information on active Greater Sage-grouse plans can be found here. For more information on land use planning and NEPA, please visit the BLM's Decision Support, Planning, and NEPA webpage. Other helpful resources include a BLM Glossary and the full text of the NEPA statute.
We have used these acronyms below:
EIS = Environmental Impact Statement
FEIS = Final Environmental Impact Statement
RMP = Resource Management Plan
ROD = Record of Decision
Please note: If you are looking for documents on this page that are not actively linked, please contact the BLM Library for assistance
* Revision dates are completion estimates
---