Greater Sage-grouse Directives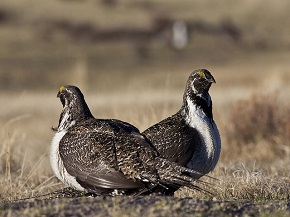 The following directives have been identified by BLM Librarians as relevant to the BLM's Greater sage-grouse conservation initiative.
Please note that instruction memoranda and information bulletins have a fixed life-span and include an expiration date. Expired policy below is marked as Obsolete. Resources designated as internal use only are available to users on the BLM network; for assistance, please contact the BLM Library.
This page includes instruction memoranda (IMs) and information bulletins (IBs) organized by issuing office: Washington Office IMs; State Office IMs; Washington Office IBs; Fire and Aviation IBs; and State Office IBs. 
Please note that you may access current BLM policy documents through the Library Policy Resources page.
---
WASHINGTON OFFICE INSTRUCTION MEMORANDA

STATE OFFICE INSTRUCTION MEMORANDA

WASHINGTON OFFICE INFORMATION BULLETINS

FIRE AND AVIATION INFORMATION BULLETINS

STATE OFFICE INFORMATION BULLETINS