E-biking Opportunities in Oregon and Washington
BLM-managed public lands in Oregon and Washington offer many opportunities for riding e-bikes. E-bikes can make bicycle travel easier and more efficient, allowing more users to experience their public lands.
To stay up to date with the latest e-bike information or for questions, contact your local BLM office. Additional information can be found on the BLM National e-bikes page.
What is an electric bicycle, or e-bike?
E-bikes are bicycles with fully operable pedals and a small electric motor that does not exceed 750 watts (one horsepower). The motor assists in the operation of the bicycle and reduces the rider's physical exertion demands.
There are different classes of e-bikes based on how it assists the rider and what speed the bike can reach. Different classes may be managed separately on public lands. For example, a trail may only be open to Class 1 e-bikes.
For more information, please visit the e-bikes FAQ page.
Trail Etiquette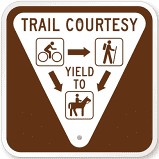 Trail etiquette practices are based on consideration of other trail users and the protection of trails and surrounding natural resources. Please be respectful.
Follow posted trail rules such as speed limits, directional travel, or yielding suggestions.
Protect the trail by avoiding trail use during wet or muddy conditions.
Use passing techniques that are considerate of other trail users and that do not result in trail widening or vegetation damage.
Practice Leave No Trace while on your public lands.
Where to ride in BLM Oregon/Washington
Throughout BLM OR/WA, there are nearly 30,000 miles of trails and roads for visitors to explore with e-bikes. Please be informed of where e-bikes are permitted before you go.
E-bikes are allowed on all roads and trails open to motorized vehicles, including Off-Highway Vehicle (OHV) recreation areas. Below are some examples of where to ride. Please contact the local BLM OR/WA office for more information.
Information on the BLM rule regarding e-bikes
For details about the BLM rule regarding e-bikes, please check our BLM National e-bikes page.