Careers with BLM OR/WA Fire
Are you ready to become a wildland firefighter?
Many people start their careers in wildland fire management as firefighters. Wildland firefighting can include working with an engine (like your local fire department) or working on a hand crew. Hand crews typically have 18 to 20 crewmembers who construct firelines to decrease or halt fire growth. This is done by clearing strips of land to remove flammable materials and digging down to expose bare soil. We also fight fires from above, flying crews in with helicopters (helitack crews) and parachuting smokejumpers to attack fires that are very remote. Firefighters also spend time clearing overgrown vegetation, or fuels, from public lands to help prevent future devastating fires.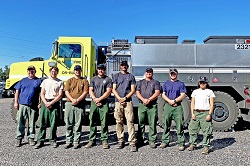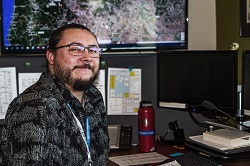 Did you know? Not everyone involved in wildland fire work directly on the fireline. We need people to staff the dispatch center, share information with the public relating to the fire program or active fires, work on fire prevention, research fire ecology, train firefighters, provide medical treatment, set up safe fire camps, map fires and more.
Learn more about all of the different positions within BLM fire at https://www.nifc.gov/careers.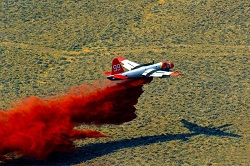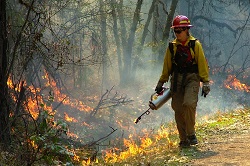 Life as a firefighter. Being a firefighter takes a special dedication. Wildland fire staff may be required to work long hours in challenging and changing conditions. For those on the fireline, these conditions include high temperatures, smoke, and difficult terrain.
We work in some of the most beautiful places in the country and be part of an interagency community of dedicated people.
Day in and day out, we serve our neighbors and protect millions of acres of public lands, natural resources, and local communities.