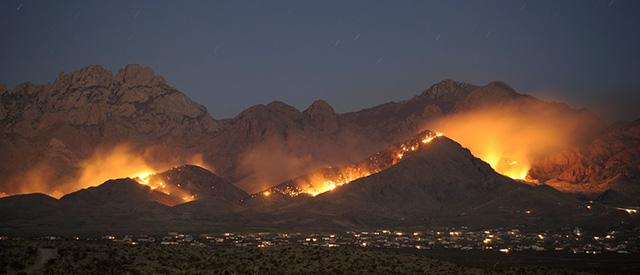 New Mexico Fire Information
BLM-New Mexico has fire management responsibility on 13.5 million acres of public land in four districts in New Mexico.  With a fleet of 14 engines, we respond to an average of 300 wildfires per year that occur on both public, State, and private lands as a result of our mutual aid agreements with other agencies.  We also manage the Roswell Air Tanker Base, a reload base for large air tankers, which hosts single engine air tankers during periods of peak fire activity.  Additionally, BLM fire personnel successfully reduce hazardous fuels and/or improve ecosystem health through a variety of prescribed fire, mechanical, or chemical treatments. Additionally, BLM provides grants to communities and non-profit entities for reducing fire hazards on state or private lands. Outreach efforts are aimed at preventing unwanted wildfires and increasing understanding of the use of fire's natural role. 
Prescribed Fire in BLM New Mexico – Working with Fire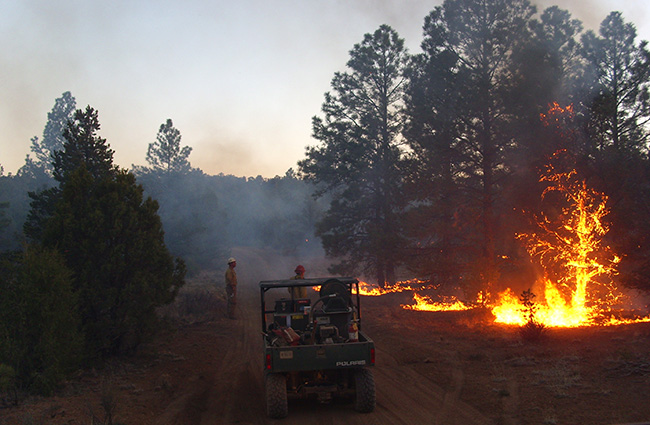 This spring, BLM-New Mexico has completed almost 50,000 acres of prescribed fire and is on track to accomplish up to 54,000 acres.  Making this happen has required years of building partnerships at the district and state levels as well as strong interdisciplinary involvement, with dedication to using fire as a tool.  On average, from 2007-2016, BLM-New Mexico has implemented 21,300 acres of prescribed fire annually.  Prescribed fires vary from large-scale fires, called broadcast burns, to burning piles of brush or trees, all achieving important objectives on the landscape.  
Throughout the State, the BLM has fostered important partnerships with other agencies, private organizations, and individuals.  At Mesa Chivato in the Albuquerque District, Rio Puerco Field Office, these partnerships have allowed prescribed fire to be used over several years, not only reducing the potential for high-intensity wildfire, but also benefitting wildlife, watersheds, and overall ecosystem health. 
How and why do we use prescribed fire?  Objectives for the use of fire vary depending upon proximity to developed areas and ecology of the site.   Protecting communities and infrastructure is a high priority in reducing fire risk.  Using fire, we can target invasive species and juniper and piñon woodlands that have encroached into grasslands and ponderosa pine forests.  Reintroduction of fire is also important from the ponderosa pine forests to the desert grasslands.  In these ecosystems, natural fire has helped shape the flora and fauna found there.  Its absence slowly changes the balance and can lead to loss of wildlife habitat and grazing opportunities, unproductive watersheds, unhealthy forests, and severe wildfires following accumulation of vegetation.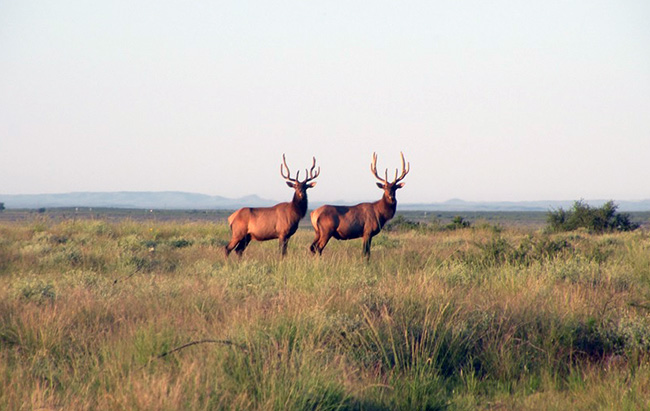 Each prescription, or detailed plan on where and how to use fire, defines the desired outcomes and parameters to achieve them safely.  Fire managers monitor weather and fuel conditions, and can approximate the intensity of the fire, which allows them to implement it when they are most likely to meet the objectives of the plan.  Sometimes pre-treatments are needed using mechanical or chemical means prior to burning.  These treatments are often extensive, covering thousands of acres.  This phased approach then allows fire to be reintroduced more safely and maintained using fire.  One other benefit of using prescribed fire is the reduction in smoke emissions under specific conditions versus a wildfire burning under extreme conditions and impacting air quality.