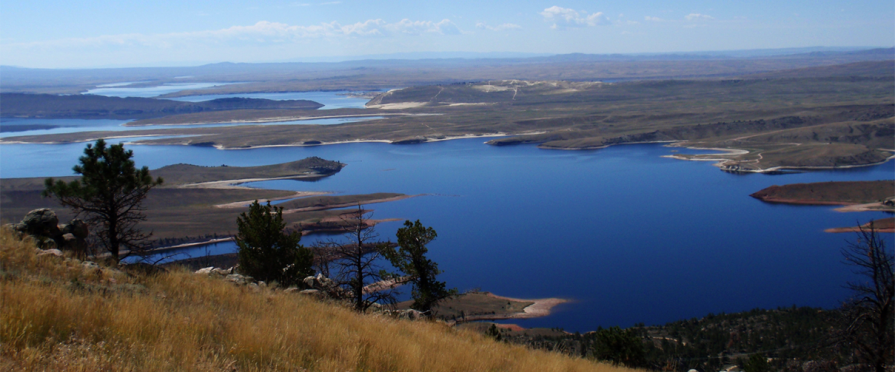 BENNETT MOUNTAIN WILDERNESS STUDY AREA
Values
Consisting of steep rock ledges and walls and several drainages, the WSA provides opportunities for experiencing naturalness, solitude, and primitive and unconfined recreation. The area contains three basic types of topography: the mountain plateau/ridges, the steep, rocky ledges and the many tributary draws. Vegetation is primarily grasses, sagebrush and other shrubs, with pockets of pine, aspen and willows. The high plateau, coupled with numerous drawers and rocky outcrops, provides a high degree of solitude. The spectacular view of Seminoe Reservoir to the southwest provides a feeling of spaciousness but also illustrates the effects of man's nearby development.
Visitation Information
The Bennett Mountains WSA is predominantly natural, with few human footprints. The mountain has distinct rocky ledges and walls that have a fortress-like appearance along the entire southern exposure, and the northern portion is traversed with numerous tree-filled drainages. The higher elevations have considerably less vegetation and more rugged rocky features. The elevation ranges from approximately 6,600 to 8,000 feet. Motorized travel is expressly prohibited. Additionally, the WSA is closed to mineral entry, including gold panning.
Visitor Advisory
Access to wild lands inherently requires good navigational skills and four-wheel drive or high-clearance vehicles. Visitors should be prepared for adverse weather and road conditions. The WSAs in the BLM Field Office are primarily accessed by unnamed or unsigned two-track roads that in many cases may be difficult to find without sufficient navigational skills and equipment.
Wilderness Study Areas
WSAs are undeveloped federal lands that retain their primeval character and influence, without permanent improvements or human habitation, and are managed so as not to impair their suitability for preservation as wilderness. Backcountry recreation is a common use along with Leave no Trace Outdoor ethics. Please be advised these areas are restricted and do not allow for the use of motorized and mechanized equipment.