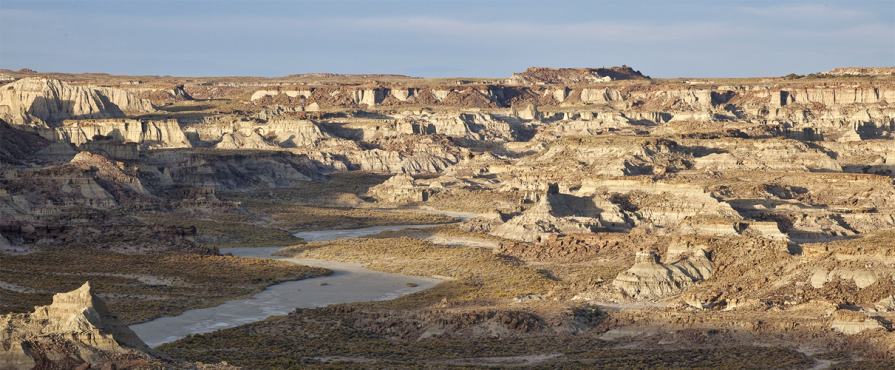 ADOBE TOWN WILDERNESS STUDY AREA
Values
Adobe Town WSA has rugged badland rims, expanses of sagebrush, numerous canyons, and overall scenic vistas that provides for solitude and unconfined freedom of movement. Opportunities for hiking, backpacking, sightseeing, horseback riding, hunting, nature study, scientific study and photography are available. Fossil remains of mammals are numerous and widely distributed, including rhinoceros-like Uintathere and tapir-like Titanothere fossils. Significant archaeological resources are found throughout the WSA, representing 12,000 years of continuous human occupation from Paleo Indian through late Prehistoric periods. The cultural site density of the WSA is estimated to be 30 surface sites per square mile.
Visitation Information
Skull Creek Rim, at the center of the WSA, is a very colorful and rugged badland area which consists of a series of highly eroded drainages and colorful badland rims. North of Skull Creek Rim is Monument Valley and Adobe Town Rim. These areas also contain badlands and formations, but are more dispersed. To the east is a broad, relatively undisturbed plain that is covered with stabilized sand dunes and alluvium.
Visitor Advisory
Access to wild lands inherently requires good navigational skills and four-wheel drive or high-clearance vehicles. Visitors should be prepared for adverse weather and road conditions. The WSAs in the BLM Field Office are primarily accessed by unnamed or unsigned two-track roads that in many cases may be difficult to find without sufficient navigational skills and equipment.
Wilderness Study Areas
WSAs are undeveloped federal lands that retain their primeval character and influence, without permanent improvements or human habitation, and are managed so as not to impair their suitability for preservation as wilderness. Backcountry recreation is a common use along with Leave no Trace Outdoor ethics. Please be advised these areas are restricted and do not allow for the use of motorized and mechanized equipment.