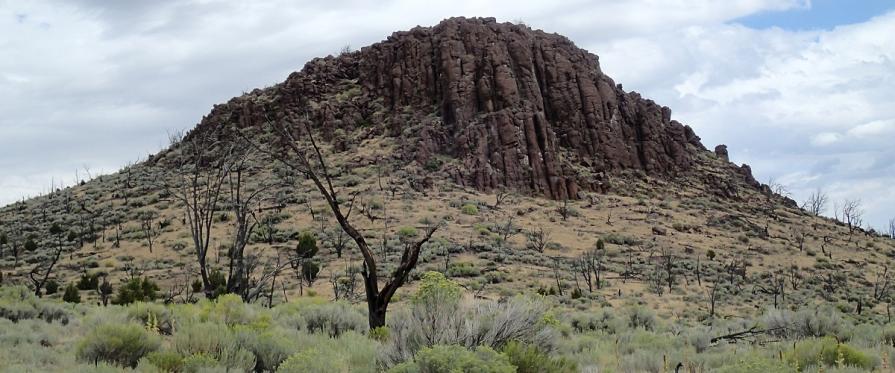 WHITE ROCK RANGE WILDERNESS STUDY AREA
Values
The White Rock Range WSA is a part of the greater White Rock Mountains, a pristine north-south oriented mountain range that straddles the border of east-central Nevada and western Utah. The WSA is adjacent to designated wilderness in Nevada. The area consists of gentle mountain terrain with foothills and benches. Many side canyons and drainages exist throughout the range offer opportunities for exploration. Vegetation consists mostly of pinyon-juniper woodland and fir depending on elevation, which ranges from approximately 6,200 to over 9,000 feet. Interspersed throughout the area are numerous small grassy meadows where springs support riparian vegetation. Notable wildlife found in the White Rock Range WSA include cougar, bobcat, badger, jackrabbit, along with several bird and reptile species, as well as a large elk herd and mule deer herd.
Visitation Information
To reach the White Rock Range WSA, drive west from Cedar City on Highway 56 approximately 51 miles to the town of Modena. At the intersection of Highway 56 and Modena's Main Street/Modena Canyon Road, take a right, and travel north on the Modena Canyon/Hamblin Valley Road, and travel ~12.6 miles north. Make a left at this intersection (Hall's Road), and travel ~1.1 miles west. Make a right hand turn onto 13600 W. Travel north on this road for 11.1 miles. Make a left hand turn onto the dirt road, and travel the winding road west (into Nevada), for 6.2 miles to a "Y" intersection. Turn right and continue 1.0 miles (stay to the left at the next immediate intersection). You will merge with the Reeds Cabin Summit road and make a slight right. The southern portion of the WSA is located 1.9 miles past the merge onto Reeds Cabin Summit Road.
Visitor Advisory
Visitors should come prepared for backcountry conditions and adequately prepare for their trip. Knowledge of weather, terrain, and physical conditions can help ensure safety.