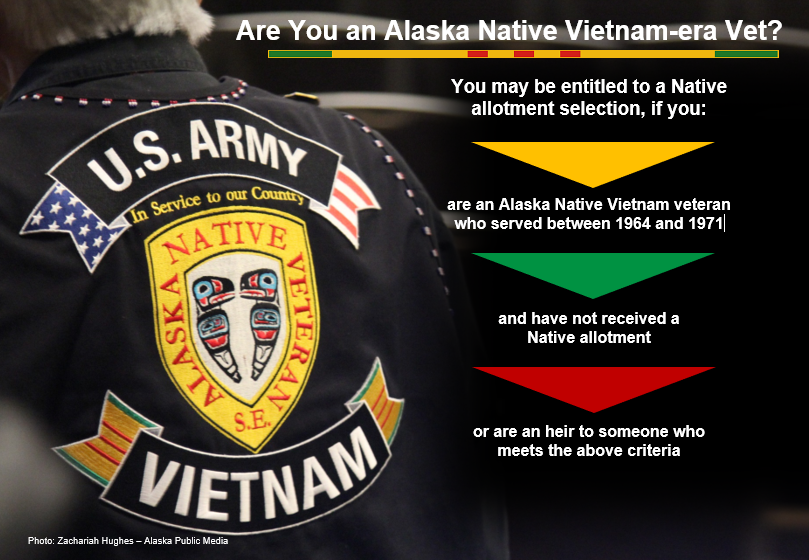 Eligible Alaska Native veterans can get up to 160 acres of Federal land

Applications will be accepted between Dec. 28, 2020 and Dec. 29, 2025 for the Alaska Native Vietnam-era Veterans Land Allotment Program of 2019. The program provides the opportunity for eligible Vietnam-era veterans or their heirs to select 2.5 to 160 acres of Federal land in Alaska under the 2019 Dingell Act. The program is open to all eligible Alaska Natives who served between Aug. 5, 1964, and Dec. 31, 1971, and it removes the requirement for personal use or occupancy mandated under previous laws. Those receiving allotments under previous programs are ineligible.
PROGRAM UPDATE (July 22, 2021) | BLM Alaska is asking for public input through Sept. 21 to support preparing an environmental assessment of opening about 28 million acres currently under review to prioritize availability for selection by eligible Alaska Native Vietnam-era vets under the 2019 Dingell Act. 
In addition to about 1.6 million acres "Currently Available" under the program, the BLM added these 28 million acres for selection to its Available Lands Map in late May as "Potentially Available after PLO Review" for lands covered by several public land orders under review by the Department of the Interior.
The BLM encourages eligible individuals to submit applications for these areas under review. It will review all applications for completeness and work with applicants to address any concerns. It will immediately begin processing any applications it receives to ensure that it can then complete processing as quickly as possible if the lands become available after the ongoing review. 
Applicants for areas under review will receive confirmation that their applications are being held until the department determines if the land will be open for selection. Lands selected within these areas will be indicated on the Available Lands Map to alert future applicants of potential conflicts.
The BLM will initiate conditional relinquishment requests on behalf of veterans if the lands covered by their applications are selected by the State of Alaska or Alaska Native Corporations but have not yet been conveyed. 
The BLM continues to accept and process applications for the 1.6 million acres "Currently Available" in Interior's Fortymile area; near Goodnews Bay in western Alaska; and in the Bering Glacier area near Yakutat. BLM Alaska is currently processing nearly 80 applications in these areas.
---
Missing contact information for potentially eligible veterans and heirs
We still need your help locating more than potentially eligible veterans and families nationwide and getting them to provide current addresses to the Bureau of Indian Affairs at (907) 271-4506. Click on the graphic below to see what region they're from in Alaska, and ask around for people who served between 1964 and 1971. We can't give you their names due to Privacy Act concerns, but you can spread the word in your community centers, shelters, veterans' organizations, places of worship, and social services organizations.
---
What to do if not notified of eligibility
Veterans previously notified of eligibility will receive application materials in the mail. Read the Final Rules for details. 
Those not notified can take the following actions and consult the Final Rules for instructions to apply. 
Once you update your contact information and receive your DD-214, ask yourself the following questions:
Where are you keeping those documents?
Does anyone else know where to find them?
Who would you like to represent you & do they know you want them to?

Do they know what lands you want to select?
Did you list them in your will as a representative?
---
Read the law 
Alaska Native Vietnam era veterans land allotment section (Sect. 1119) of the John D. Dingell, Jr. Conservation, Management, and Recreation Act (Dingell Act)