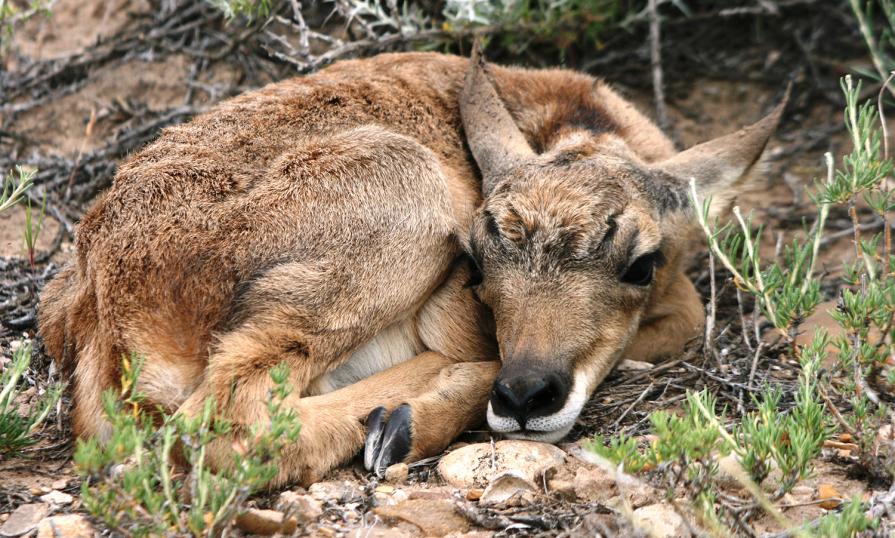 Utah Wildlife Partnerships
The Utah Wildlife Program is committed to improving wildlife habitat through vegetation improvements, partnerships and the integration of wildlife and other resource programs to find solutions through coordinated efforts to best manage the land within the BLM's multiple-use mission.
Watershed Restoration Initiative
Spawned by several years of back-to-back drought and the documented die-off of several hundred thousand acres of Wyoming Big Sage across Utah in 2002, the BLM in concert with cooperative efforts of the UPCD initiated actions to address the widespread degradation and restore impacted rangelands across the state.  This movement first referred to as the "Sagebrush Restoration Initiative "soon enlarged its focus to become the "Shrub-Steppe Restoration Initiative".  This partnership momentum has grown to encompass a wide variety of habitats, issues and restoration actions, in 2005 the "Watershed Restoration Initiative" was spawned. 
To date, vegetation treatments through some form of mechanical, biological, and/or prescribed fire have been conducted to improve watershed values on approximately 1.3 million acres statewide.  Regional plans exist for treatments and actions to manage and restore public land health in priority areas across the state to:
Maximize natural biological diversity through time.
Maintain and/or improve water quality and quantity.
Maintain and/or improve vegetative cover, vigor, and composition to improve soil stability and sustain consumptive and non-consumptive demands.
The current UWRI process is focused on a partnership approach engaging multiple cooperatives in order to implement landscape scale treatments across jurisdictional boundaries.  The UPCD is composed of 14 State and Federal Agencies that meet quarterly to discuss issues regarding Natural Resources issues within Utah.  This process has gathered support of the Utah State Legislature, the Utah Governor, over 50 sportsmen's groups, conservation organizations, private landowners, recreationists, energy companies, local governments, and non-profit organizations.
Hawkwatch International
HawkWatch International's (HWI) mission is to conserve our environment through education, long-term monitoring, and scientific research on raptors as indicators of ecosystem health. The HWI has collected data for BLM-UT for many years. Currently the BLM-UT is cooperation with the DoD (Dugway Proving Grounds) to have HWI collect information on the raptors in the West Desert. This includes the Salt Lake, Fillmore, and Cedar City Field Offices. The main focus of this data collection is to gather information on the golden eagle populations in this region.
RINS
RINS is an all-volunteer organization concerned with birds of prey that nest throughout Utah. RINS focuses on habitat protection with particular emphasis on raptor species listed as sensitive, threatened or endangered. They regularly check the nest's condition to see whether a raptor is using the nest, and to determine yearly productivity (how many young fledged from the nest). Observing and recording what types of human disturbance, vegetation, prey, and prey remains present at or near the nest site is also recommended.
RINS data helps BLM better fulfill not only our regulatory requirements mandated by the Migratory Bird Treaty Act, Endangered Species Act and the BLM 6840 (Sensitive Species) but also helps us fulfill our mission of multiple use and sustained yield. RINS data helps us better manage raptor species along with all of the other resources and allows us to manage them so that they may be enjoyed by future generations.
Utah State Agencies:
Utah Division of Wildlife Resources

Watershed Restoration Initiative
Federal Agencies:
Department of Defense
U.S. Fish and Wildlife Services
Department of Defense

Dugway Proving Grounds
Hill Airforce Base
Universities, Colleges:
University of Utah
Brigham Young University
Southern Utah University
Non-profit Partnerships:
Raptor Inventory Nest Survey (RINS)
HawkWatch International, Inc.