Top 5 things to know about adopting or purchasing a wild horse or burro
If you have always dreamed of owning an iconic piece of the American West in the form of a wild horse or burro, there are a few things to consider prior to hooking up the truck and trailer and hitting the road to a wild horse or burro adoption/sales event! 
1. There are some requirements for you, your place and your trailer too.
It is important to the BLM that you are a responsible individual capable of providing humane and appropriate care to the animal(s) placed in your charge. If you are over the age of 18, you will need to complete an application before you can adopt a wild horse or burro. Applications are available at wild horse and burro off-range corrals, adoption/sales events and online! You will be asked to provide important information like a complete description of the area where the animal will be housed, the feed the animal will be given, and a promise to humanely care for your newly adopted friend. Folks who have been in trouble on an animal cruelty conviction need not apply… The BLM will use the completed application to determine how many animals you are qualified to adopt or purchase –up to four animals may be titled in one year.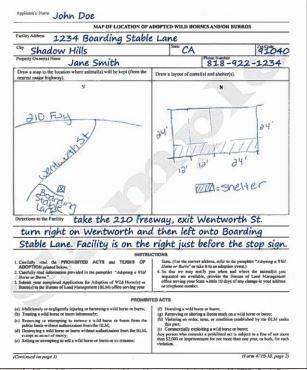 A few things to note: If you are lucky enough to live on acreage, it may be tempting to think that you have plenty of space in that fenced pasture. The thing is, if you adopt an untrained animal and turn it loose in that pasture – it may be a very long time (if ever) before you catch it again! That is why the BLM requires at least 400 square feet of appropriately fenced (material and height) area depending on the age of the adopted animal in your care. Besides that, it may serve as a good space to begin the gentling process that needs to happen to provide the appropriate care the animal requires. You know, things like hoof trimming, a regular vaccination schedule and visits to the veterinarian! There are also shelter requirements depending on the state you live in, so be sure to check out the state shelter requirements key.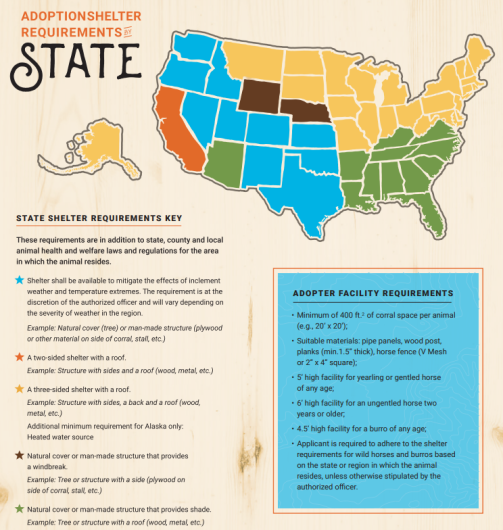 Remember, if you have just adopted or purchased an untrained wild horse or burro, you will need to transport it to its new home in a stock or horse trailer with a rear swing gate and a covered top. If there are dividers in your slant load trailer, they must be removed or secured back. Drop-ramps are acceptable if there is an additional back gate to the trailer. Be sure the trailer is in good working condition with no sharp protrusions on the interior. Also –have you checked your floorboards recently? 
2. Consider the cost.
We understand there is a significant financial commitment to care for a wild horse or burro, and it is important to consider all that will include. Feed, training, veterinarian care, vaccinations, deworming and hoof care – the list can be long!  In 2019, the BLM implemented the Adoption Incentive Program. This is where the BLM will pay qualified adopters $1,000 if you adopt an untrained wild horse or burro – to help offset some of the private costs of providing a safe and humane environment for that animal. The money will arrive following the receipt of Certificate of Title to the adopted animal – a year following the date of adoption. Additionally, we want to ensure your AIP adopted animal is being well-cared for, so we will check in to see how you and your partner(s) are doing -- within six months following the initial adoption.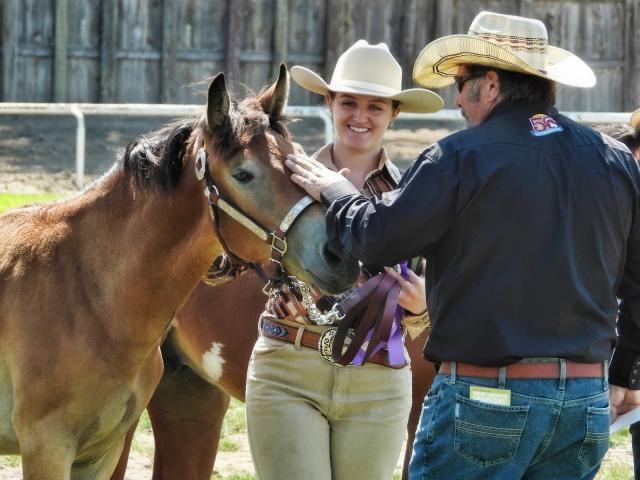 3. You will get a Certificate of Title/Bill of Sale.
A wild horse or burro belongs to the federal government for at least one year after you sign the Private Maintenance and Care Agreement. At the end of that year, the BLM will send you a Title Eligibility Letter in the mail. You are then responsible to have the animal inspected by a qualified person such as a veterinarian or BLM authorized officer verifying you have given humane care and treatment to your adopted animal(s). Once you return the signed letter, the BLM will mail you a Certificate of Title signifying that animal is now your private property. If purchasing the animal, you will receive immediate ownership upon receipt of the Bill of Sale.  
The BLM holds onto the Certificate of Title for a year as a safeguard to best guide animals into good homes. It is illegal to adopt or purchase a wild horse or burro from the BLM for the purpose of slaughter. The BLM requires adopters to certify under penalty of prosecution that they will not knowingly sell or transfer the animal for slaughter or processing into commercial products. Furthermore, the BLM conducts compliance inspections on animals while in private care prior to title transfer.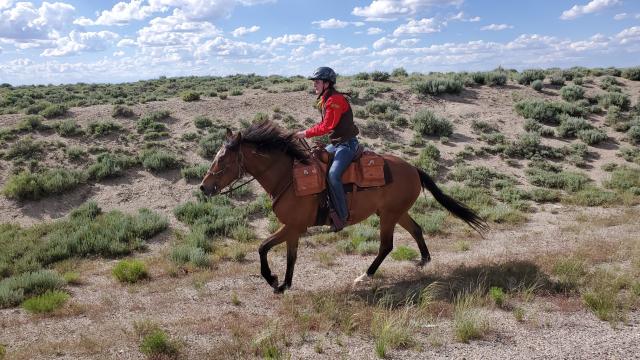 4. There are several opportunities both in-person and online to identify your next wild horse or burro partner.
Now let the shopping begin – that is the horse or burro shopping! The best place to keep your finger on the pulse of upcoming events is on the BLM's Adoption and Sale Events page. This is where each of the Wild Horse and Burro Adoption and Sales events are listed, including our Online Corral events that occur on a quarterly basis. If you head out to an event, be sure to bring a halter and at least a 12-foot cotton lead rope with you if you would like to have your newly adopted animal haltered prior to loading in your trailer. Your partner comes vaccinated and dewormed – the BLM will also provide a record of the animal's age, origin and medical history. This includes the negative results of a Coggins test, which indicates that the animal does not have Equine Infectious Anemia and is necessary for travel across state lines.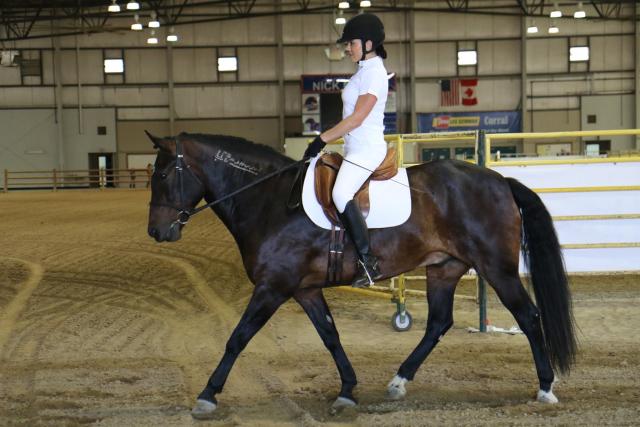 5. Appropriate care, feeding and handling will lead to a successful partnership!
Once your wild horse or burro becomes accustomed to its new location, begin working with your animal in the gentling process as soon as you can. The sooner you begin the training process, the easier it becomes to provide routine care – trust us, your farrier and veterinarian will appreciate your efforts to make their job easier! It is also very important to consider the appropriate nutritional needs of the animal you adopted. Those needs depend on the size, age, physical condition, and the amount of exercise or training your partner receives while in your care. Good quality hay or pasture should be the main component of any horse or burro diet. There are general guidelines for feeding available along with other useful suggestions for animal care in the Caring for your New Wild Horse or Burro guide that may be helpful to you as you embark on this journey. 
Committing to give a good home to a part of America's iconic heritage – the wild horse or burro -- is a big decision and we applaud you for considering all the facets of being a good partner before you adopt!