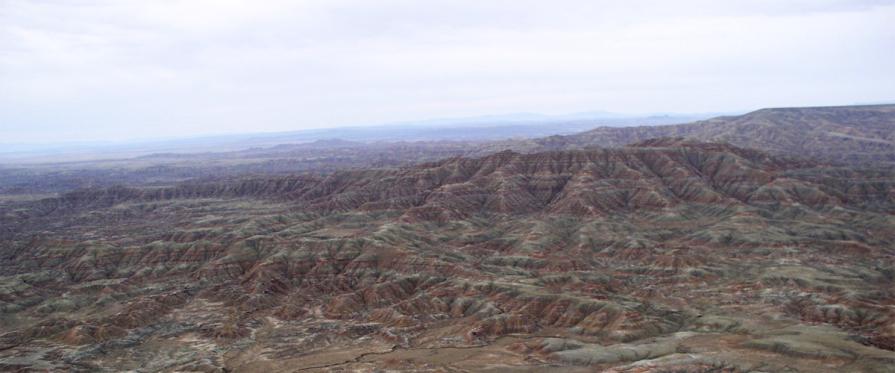 SHEEP MOUNTAIN WILDERNESS STUDY AREA
Values
The Sheep Mountain WSA encompasses 23,250 acres of BLM-administered public land, and 640 acres of split estate land. The WSA contains bare, rugged badlands created by peaks and ridges broken by irregular, sharply cut drainages radiating from the central portion of the area that is dominated by Sheep Mountain. The WSA contains geologic and paleontological resources and is occasionally used by wild horses. The area is dominated by the rugged badlands formed by the erosive action of wind and water on the shales and sandstones of the Willwood Formation. Sharp ridges and barren hills separate innumerable branches of the larger drainages. Elk Creek, Dorsey Creek and Dry Creek are the main drainages in the area.
Visitation Information
This WSA lies 18 miles west of the town of Basin and 5 miles northeast of Bobcat Draw Badlands WSA. Access is from Dorsey Creek Road (BLM Road 1103), which is accessed from Fifteen Mile Road (BLM Road 1429) out of Worland; the Platte Pipeline Road (BLM Road 1430) from Gooseberry Road (Wyoming State Highway 431); or from County Lane 42 1/2, which is accessed from Wyoming State Highway 30 north of the WSA and south of Burlington. Motorized travel is expressly prohibited. Additionally, the WSA is closed to mineral entry, including gold panning.
Visitor Advisory
Access to wild lands inherently requires good navigational skills and four-wheel drive or high-clearance vehicles. Visitors should be prepared for adverse weather and road conditions. The WSAs in the BLM Field Office are primarily accessed by unnamed or unsigned two-track roads that in many cases may be difficult to find without sufficient navigational skills and equipment.
Wilderness Study Areas
WSAs are undeveloped federal lands that retain their primeval character and influence, without permanent improvements or human habitation, and are managed so as not to impair their suitability for preservation as wilderness. Backcountry recreation is a common use along with Leave no Trace Outdoor ethics. Please be advised these areas are restricted and do not allow for the use of motorized and mechanized equipment.