Little Snake Field Office Travel Management
The Little Snake Field Office began undertaking a comprehensive route inventory in 2012. We have broken down the field office into areas and are inventorying through on-the-ground observation and GIS analysis of imagery.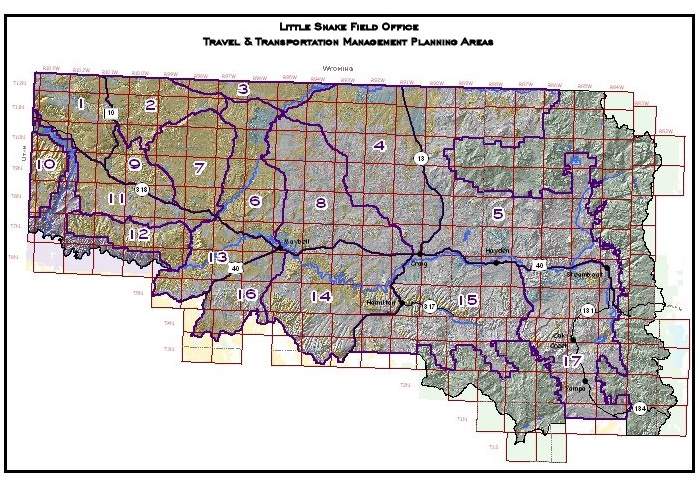 Following a public input period last year, we are completing the draft Environmental Assessment for Travel Management Area 1, which includes units 2, 9 and 7.
We have released the draft route inventory for Travel Management Area 2, which consists of units 3, 4, 6 and 8. This includes the Powder Wash, Big Gulch, Seven Mile and Great Divide units. The BLM manages about 44 percent of this 846,473-acre area's surface.
Inventory Status
Click links for maps.
| Unit Number | Unit Name | GPS Miles Inventories |
| --- | --- | --- |
| TMA 1 | Travel Management Area 1 | 739.85 |
| TMA 2 | Travel Management Area 2 | 1,353.32 |
| 1 | Cold Springs | 209.03 |
| 2 | Hiawatha | n/a |
| 3 | Powder Wash | n/a |
| 4 | Big Gulch | n/a |
| 5 | North Routt | In Progress |
| 6 | Seven Mile | n/a |
| 7 | Sand Wash | n/a |
| 8 | Great Divide | n/a |
| 9 | Bears Ears | n/a |
| 10 | Diamond Mountain | 38.90 |
| 11 | Browns Park | 185.58 |
| 12 | Douglas Mountain | 125.47 |
| 13 | Cross Mountain | 284.67 |
| 14 | Axial Basin | 340.28 |
| 15 | Williams Fork | In Progress |
| 16 | Elk Springs | 174.62 |
| 17 | South Routt | In Progress |