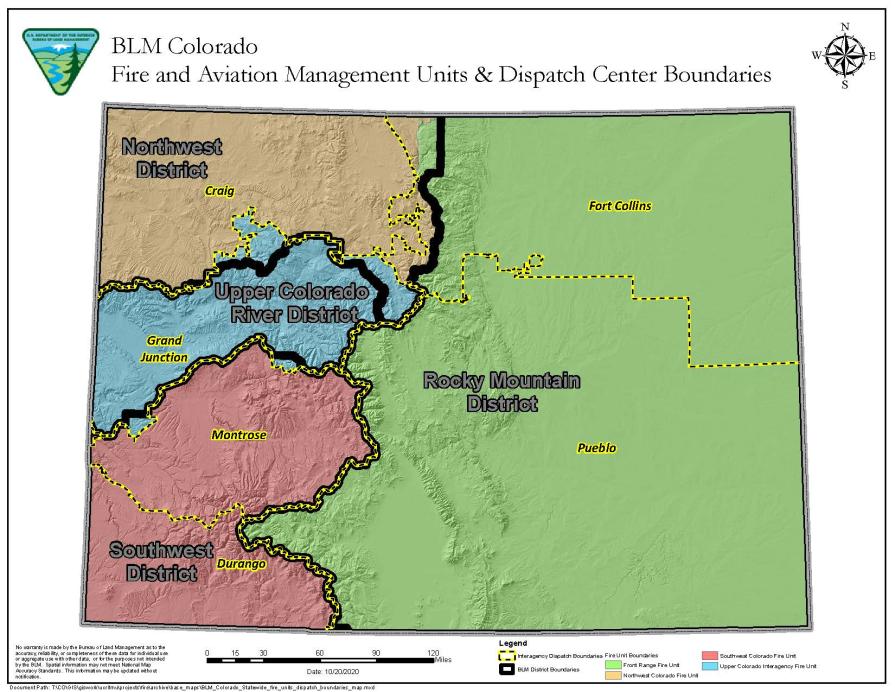 Southwest District
Fire management in Colorado is an interagency partnership among federal, state and local entities. BLM-managed lands within Colorado are broken into four Interagency Fire Management Units: Northwest Colorado Fire Unit in Craig, Upper Colorado River Interagency Fire Unit in Grand Junction, Southwest District Fire Unit in Montrose and Front Range District Fire Unit in Canon City.
Animas City Prescribed Burn
To reduce the risk of high-intensity wildfire, improve forest health and wildlife habitat, the Bureau of Land Management Tres Rios Field Office has planned a prescribed fire treatment for up to 717 acres on Animas City Mountain in Durango, Colorado. Depending on the weather and availability of firefighters, the prescribed burns could occur as early as the fall of 2022. An Inciweb page has been set up to provide information and updates on the status of the fire: https://inciweb.nwcg.gov/incident/7688/
Current Fire Restrictions
See below for restrictions by field office-all fire restrictions are current unless the rescission order is posted. Please contact the field office for additional information.
Under Stage 1 Fire Restrictions:
campfires are only allowed within designated fire grates in developed campgrounds (i.e. a metal, in-ground containment structure -- fire pans and rock campfire rings are not acceptable)
no fires of any type including charcoal outside of developed areas
no smoking except within an enclosed vehicle or building, a developed recreation site or in a barren area free of vegetation
no use of explosive materials, including explosive targets
no welding or operation of an acetylene or other similar torch with open flame except from an area that has been cleared of vegetation
no operation of any internal combustion engine without a spark arresting device properly installed and in working order
The following activities are prohibited under Stage 2 Fire Restrictions:
Building, maintaining, attending or using a fire or campfire, charcoal grill, coal, wood burning stove or sheepherders stove, including in developed camping and picnic grounds. Devices using pressurized liquid or gas are exempted.
Smoking, except within an enclosed vehicle, trailer, building or tent.
Using an explosive requiring fuse or blasting caps, fireworks, rockets, exploding targets and tracers or incendiary ammunition.
Operating or using any internal combustion engine without a spark arresting device properly installed, maintained and in effective working order meeting either:

(a) Department of Agriculture, Forest Service Standard 5100-1a; or
(b) Appropriate Society of automotive Engineers (SAE) recommended practice J335(b) and J350(a). 36 CFR 261.52(j)

Operating a chainsaw without an approved spark arrestor, and without a chemical pressurized fire extinguisher and a round-point shovel with an overall length of at least 35 inches. The extinguisher will be with the equipment operator.  The shovel may be kept with fueling supplies but readily available for use.
Welding, or operating an acetylene or other torch with open flame (except with a current permit, contract or letter of authorization).
Tres Rios Field Office:
May 13, 2022: Fire Prevention Order COS01-22-01 for all BLM-administered public lands within the boundaries of Archuleta, Dolores, La Plata, Montezuma, Montrose, and San Miguel Counties. (All-year-round)
July 1, 2022: The Durango Special Recreation Management Area will remain in annual restrictions.
Uncompahgre Field Office:
July 1, 2022: No fire restrictions at this time.
Gunnison Field Office:
July 1, 2022: No fire restrictions at this time.