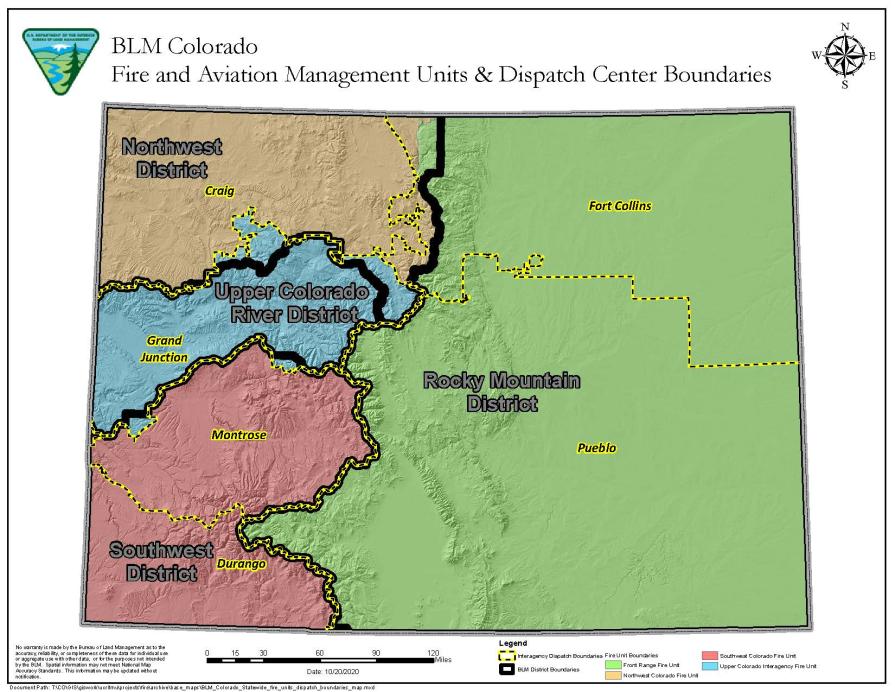 Rocky Mountain District
Fire management in Colorado is an interagency partnership among federal, state and local entities. BLM-managed lands within Colorado are broken into four Interagency Fire Management Units: Northwest Colorado Fire Unit in Craig, Upper Colorado River Interagency Fire Unit in Grand Junction, Southwest District Fire Unit in Montrose and Rocky Mountain District Fire in Canon City.
Current Fire Restrictions
Updated April 27, 2023
All fire restrictions within the Royal Gorge Field Office have been lifted
---
Updated March 21, 2023
All fire restrictions within the San Luis Valley Field Office have been lifted
Year-round tips for preventing wildfires: 
Keep campfires small and under control.
Ensure that campfires are dead out. If it's too hot to touch, it's too hot to leave.
Keep a shovel and water nearby to douse escaped embers.
Do not park or idle vehicles in tall dry grass. The heat from the vehicle can spark a wildfire.
Do not allow chains to drag from vehicles or towed trailers.
Fireworks are never allowed on federally managed lands.
Year-round wildfire prevention measures always apply on BLM-administered public lands in Colorado. These prohibit:
Leaving a fire unattended or unextinguished.
Possession, discharge or use of any fireworks.
Discharging of a firearm using incendiary or tracer ammunition.
Burning, igniting or causing to burn any tire, wire, magnesium, or any other hazardous or explosive material.
Operating any off-road vehicle on public lands unless the vehicle is equipped with a properly installed spark arrester pursuant to 43 CFR 8343.1 (c).