Long-Term Visitor Area (LTVA) - MAP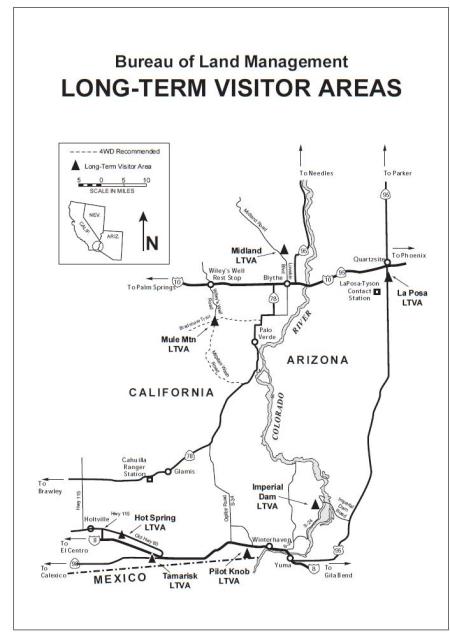 Location of Long-Term Visitor Areas
The areas designated as Long-Term Visitor Areas were  chosen because of their past popularity with winter visitors and because access roads have been developed and facilities are available nearby.
The map and legend in this brochure illustrate the location of each LTVA, and the map contains a key of camping facilities available at each site.
Since only minimum facilities are available at most of the sites, you should plan to arrive in a self-contained camping unit. Self-contained units are those with a permanently affixed wastewater holding tank of 10-gallon minimum capacity. Non-self-contained units are allowed only at Mule Mountain, Imperial, and La Posa LTVAs. In most cases, running water, showers, and bathrooms are not  available on site. You must transport garbage and sewage to the nearest disposal site (see map).
Where to Obtain Your Long-Term Visitor Permit
You may obtain permits at LTVA host entrance stations or by contacting the following BLM offices in Arizona and southern California. You can also pay for your pass in advance at Recreation.gov and exchange it for a permit and decal at the Yuma Field Office, La Posa LTVA, or Imperial LTVA. Permits are not available through the mail. For further information on the LTVA program please contact one of the following offices.
Yuma Field Office

Palm Springs - South Coast Field Office

El Centro Field Office

BLM Arizona website : www.blm.gov/arizona
BLM California website : www.blm.gov/california
Files
Publication Date
Wed, 08/15/2018
Organization
Collection: Public Room, Frequently Requested
Category: Map
Keywords
Long Term Visitor Area
Map
Camping
Campground
Related Content