Long Term Visitor Area (LTVA) Supplementary Rules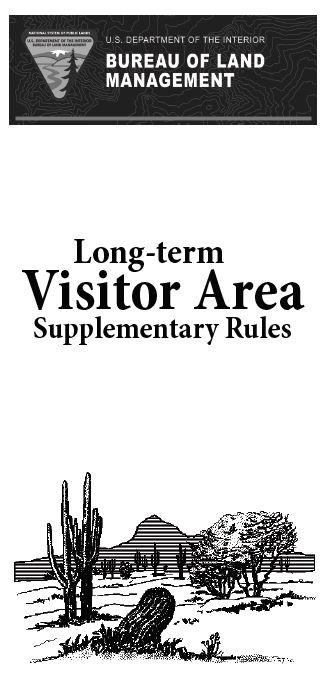 The goals of the Bureau of Land Management, Long-Term Visitor Areas are to provide a safe and enjoyable public land camping experience for all visitors, while promoting environmental stewardship, mutual respect and responsible use of America's natural resources. The following are the supplementary rules for the designated Long-Term Visitor Areas (LTVAs) and are in addition to rules of conduct set forth in 43 CFR Subpart 8365. The supplementary rules apply yearlong to all public land users who enter the LTVAs.
1.    The Permit Requirements and Fees. You must have a permit to use a designated LTVA between September 15 and April 15.  The permit authorizes you to camp within any designated LTVA using those camping or dwelling unit(s) indicated on the permit between the periods from September 15 to April 15. There are two types of permits: Long-Term and Short-Visit. The long-term permit is valid for the entire season or any part of the season.  The short-visit permit is valid for 14 consecutive days, and may be renewed an unlimited number of times for the cost of the permit.  LTVA users must pay the cost of the fee indicated on the LTVA permit, in U.S. funds only, before or upon arrival.  The Bureau of Land Management (BLM) will not refund permit fees.
2.    Displaying the Permit. To make it valid, at the time of purchase, you must affix your short-visit permit decal or long-term permit decal, using the adhesive backing, to the bottom right-hand corner of the windshield of all transportation vehicles, and in a clearly visible location on all camping units.  You may use no more than two secondary vehicles within the LTVA.
3.    Permit Transfers. You may not reassign or transfer your permit.
4.    Permit Revocation. An authorized BLM officer may revoke, without reimbursement, your LTVA permit if you violate any BLM rule or regulation, or if your conduct or that of your family, guest, or pets is inconsistent with the goal of BLM's LTVA Program.  Failure to return any LTVA permit to an authorized BLM officer upon demand is a violation of these supplementary rules.  If BLM revokes your permit, you must remove all of your property and leave the LTVA system within 12 hours of notice, and you may not enter any other LTVA in Arizona or California for the remainder of the LTVA season.
5.    Unoccupied Camping Units. Do not leave your LTVA camping unit or campsite unoccupied for a period of greater than five days unless an authorized BLM officer approves it in advance.
6.    Parking. For your safety and privacy, you must maintain a minimum of 15 feet of space between dwelling units.
7.    Removal of Wheels and Campers. Campers, trailers, and other dwelling units must remain mobile. Wheels must remain on all wheeled vehicles. You may set trailers and pickup campers on jacks manufactured for that purpose.
8.    Quiet Hours. Quiet hours are from 10 p.m. to 6 a.m. under applicable state time zone standards, or as otherwise posted.
9.    Noise. Do not operate audio devices or motorized equipment, including generators, in a manner that makes unreasonable noise as determined by the authorized BLM officer.  Outdoor amplified music is allowed only within La Posa and Imperial Dam LTVAs in locations designated by BLM, and when approved in advance by an authorized BLM officer.
Download full document below for all rules.
Files
Publication Date
Wed, 08/15/2018
Organization
Collection: Public Room, Frequently Requested
Category: Brochure
Related Content