Dig, Pound, Repeat. Trail Sign Maintenance with The Glennallen Field Office
Every summer, Glennallen Field Office recreation staff spend days in the field maintaining signage along the muddy, rocky, and dusty network of off-highway vehicle (OHV) trails within the 4.3 million acres of the office's management boundaries in Southcentral Alaska. 
The work is arduous.  But the crew is rewarded with time spent in wild country and the satisfaction of accomplishing an essential task.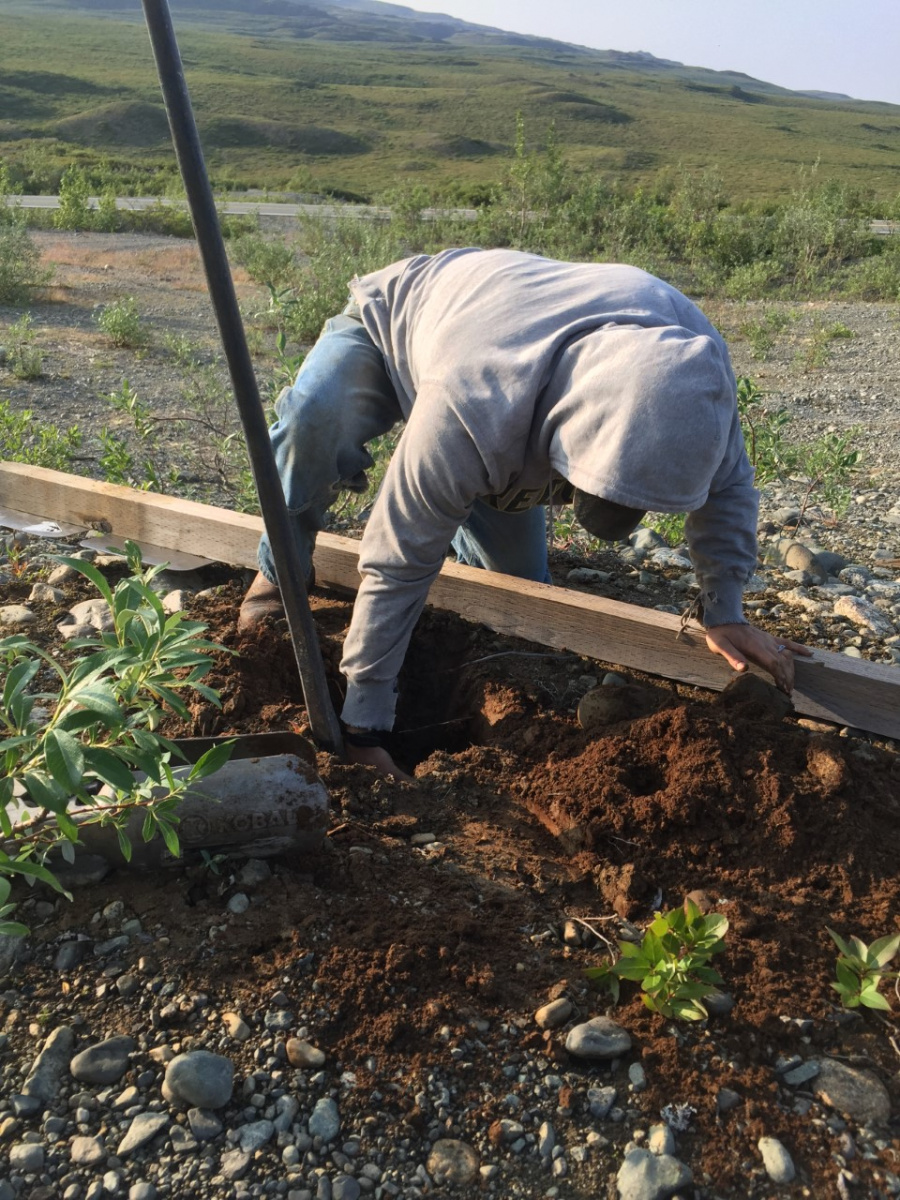 Recently, staff installed 40 new signs and six posts on the Swede Lake Trail, Top of the World Trail, and various spur trails along the Denali Highway. 
The most common OHV trail marker, identifying open and closed trails, is made from Carsonite® - a composite material made from fiberglass-reinforced polymers. Often called "green dot, red dot signs" the red markers designate closed trails and the green markers are placed every half mile along open designated OHV trails.  These highly visible markers resist corrosion and fire.  But while they are durable, they are not bullet proof and they are frequently used for target practice.
Other trail markers commonly installed consist of four-by-four treated posts, with a reflective aluminum placard. These are typically installed at the boundaries of a Wild and Scenic River corridor and reinforce the maintained/designated trail.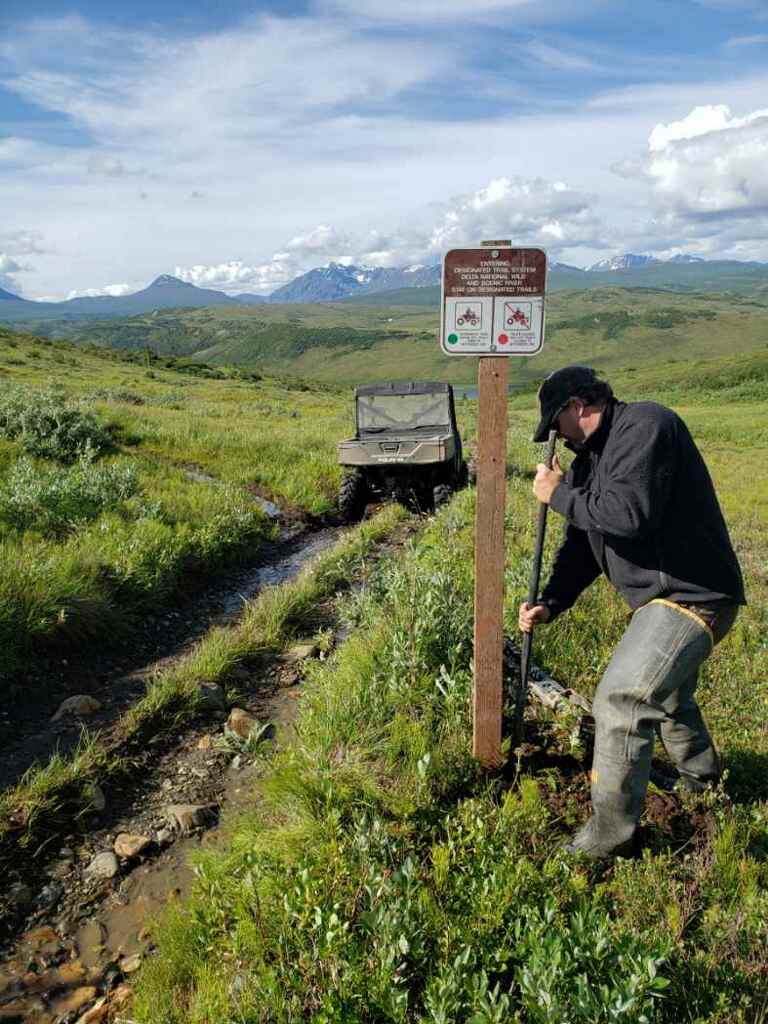 The trail markers and posts take more than their share of abuse.  In addition to being shot at, they have been run over with tracked rigs and even cut down for use as firewood or campsite construction material. 
After two days of driving, hauling, digging, and setting the markers, the trails were ready for the start of hunting season.
The BLM Glennallen staff is frequently asked, "Where can I take my four-wheeler hunting?"  The question provides an opening for staff to educate the public on the designated open trails, hunting regulations specific to that area, and general trail and camping regulations.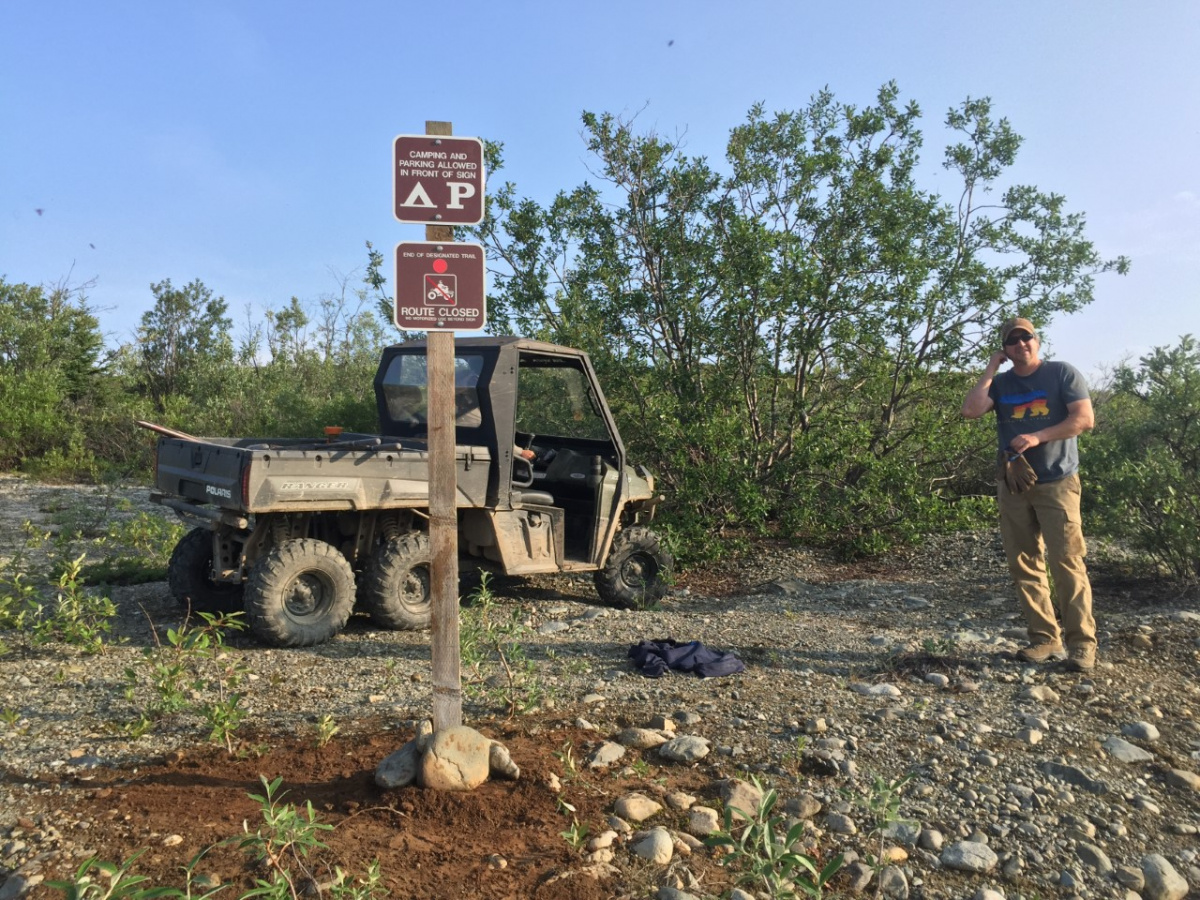 The OHV trails maintained by the Glennallen Field Office provide access to public lands for a variety of activities.  Trail work – including sign maintenance – helps fulfill the BLM mission by providing access to areas that would otherwise only be accessible by plane, boat, or extreme bushwhack.
"Marking these designated trails is so important," said Glennallen Field Office Manager Marnie Graham. "It helps the public know which trails to use, so they can help the BLM protect cultural and natural resources on their public lands."