Jackson Hotshots Fire Crew assists with extinguishing Moon Fish Wildfire in Big Cypress Preserve
A new wildfire reaching over 27,000 acres of land was recognized southeast of the Big Cypress Preserve, near Everglades National park in Ochopee, Florida, May 7, 2020.
      This wildfire, known as the "Moon Fish Fire", began at the height of Florida's fire season, between the previous winter rain conditions and prior to summer breezes in late June. Wildfire expectations are high due to abnormally dry weather and rain levels being nearly an inch lower than average.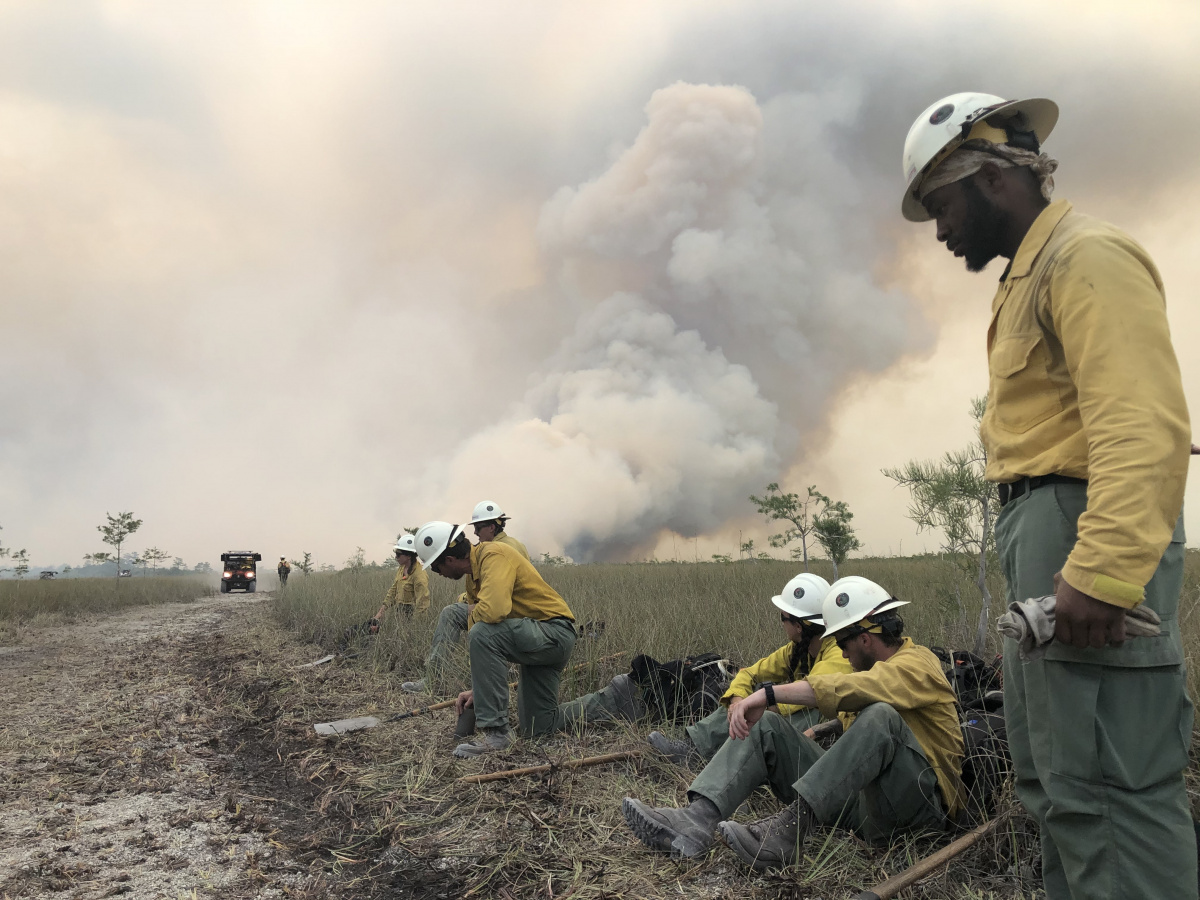 The crew prepares to be shuttled out of the fire area by UTV after securing several miles of fires edge  on the eastern portion of the fire on 5/10. Picture courtesy of Shelby Fox. 
      Wildfire suppression is lead by President Trump's Executive Order 13855, Promoting Active Management of America's Forests, Rangelands, and Other Federal Lands to Improve and Reduce Wildfire Risk (Dec. 21, 2018), along with the Secretary Order 3372, Reducing Wildfire Risks on Department of the Interior Land through Active Management (Jan. 2, 2019). The executive order directs the U.S. Department of the Interior and Department of Agriculture to administer policies to improve forest and rangeland management practices by diminishing hazardous fuel loads, reducing fire risk and ensuring the safety and stability of local communities through active management on forests and rangelands. The Bureau of Land Management's top priority during this fire season is to work together to decrease the number of wildfires while also taking precautions to ensure the safety of fire crew members and the general public from COVID-19.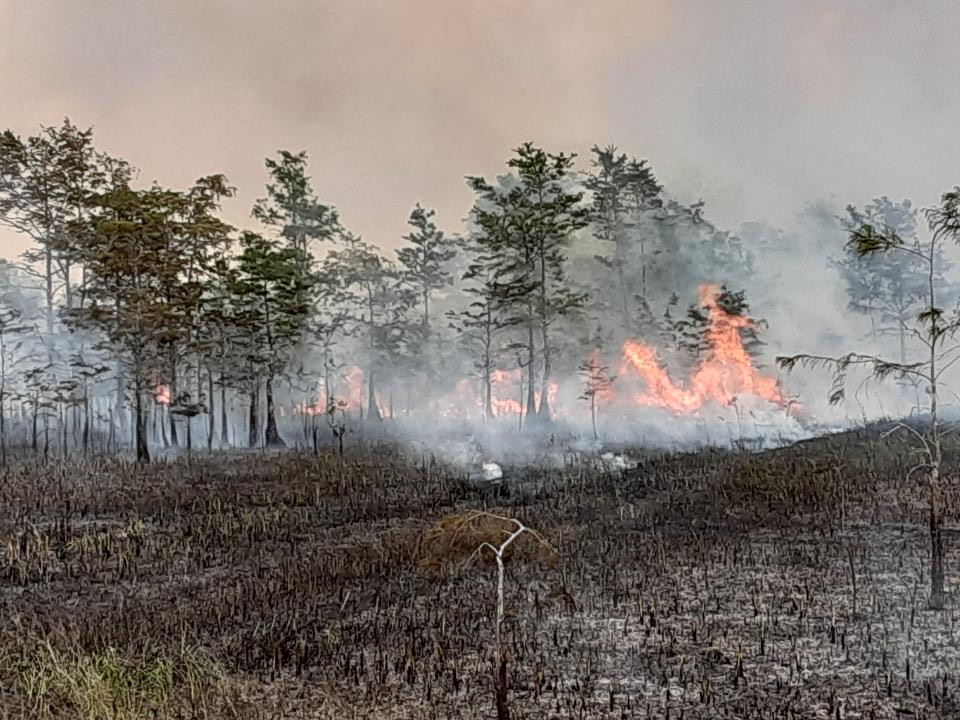 Fire activity on 5/10 as the fire moved out of a cypress hammock and into saw grass on the eastern flank of the fire. Picture courtesy of Shelby Fox.
       The Bureau of Land Management Eastern States (BLM-ES) Jackson Interagency Hotshot Fire Crew worked with the U.S. Fish and Wildlife Service, U.S. Forest Service, Bureau of Indian Affairs, and the Big Cypress Everglades Fire and Aviation to suppress the Moon Fish Fire. Miami-Dade Fire Rescue personnel were also there to assist with the Moon Fish Fire. Prior to this assignment, the Jackson Hotshots were already in Florida after containing and extinguishing the April 10, Silver King Wildfire that took place in the same area. 
       The Jackson Hotshot crew members were well prepared for the initial attack of the Moon Fish Fire. They used lighter fuels to create an indirect fire line. This fire line was then burned out in order to decrease the risk of the wildfire from spreading to the north. They used aerial and ground resources to assist with their assignment, including helicopters, air tankers, and utility task vehicles.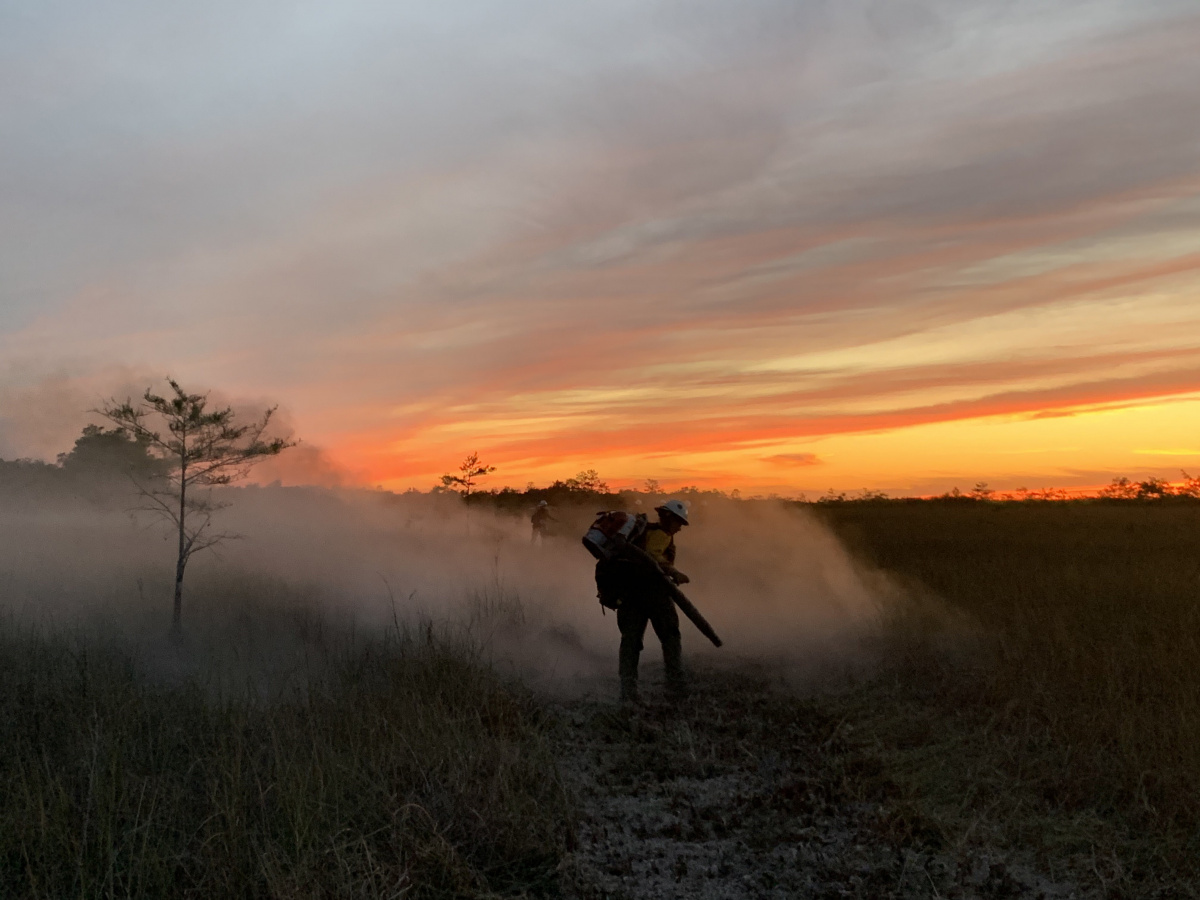 Crew members prepping indirect fireline through lighter fuels that was later burned out to limit fire spread to the north. Picture courtesy of Jamie Schnick.
    They provided outstanding overhead management and showed excellent attitudes toward the tasks that were given to them. They also did outstanding collaborative work with the other fire crews assigned to extinguish the fire. Nicole Allen, Jackson Hotshots crew member, shared her experience with working on this assignment. 
"It was hard work but was definitely worth it," Allen said. 
      Brian Pippin, Fire Operations Specialist with the U.S. Fish and Wildlife Service and Operations Section Chief Trainee for the Moon Fish Fire, commended the Jackson Hotshots for their hard work and dedication on their assignment. 
"Without the Jackson Hotshots ability to lead from the front, adapt to a changing environment and so safely, the moon fish fire initial attack would not have been as successful," Pippin said.
      Special thanks to the Jackson Interagency Hotshots Fire Crew for their exceptional work at keeping our communities safe!