Western Montana BLM celebrates Public Lands Day
David Abrams, Public Affairs Specialist, Western Montana District
River trash, new trees, a Native American powwow, and a new mountain bike trail were just some of things highlighting National Public Lands Day events in western Montana in August and September.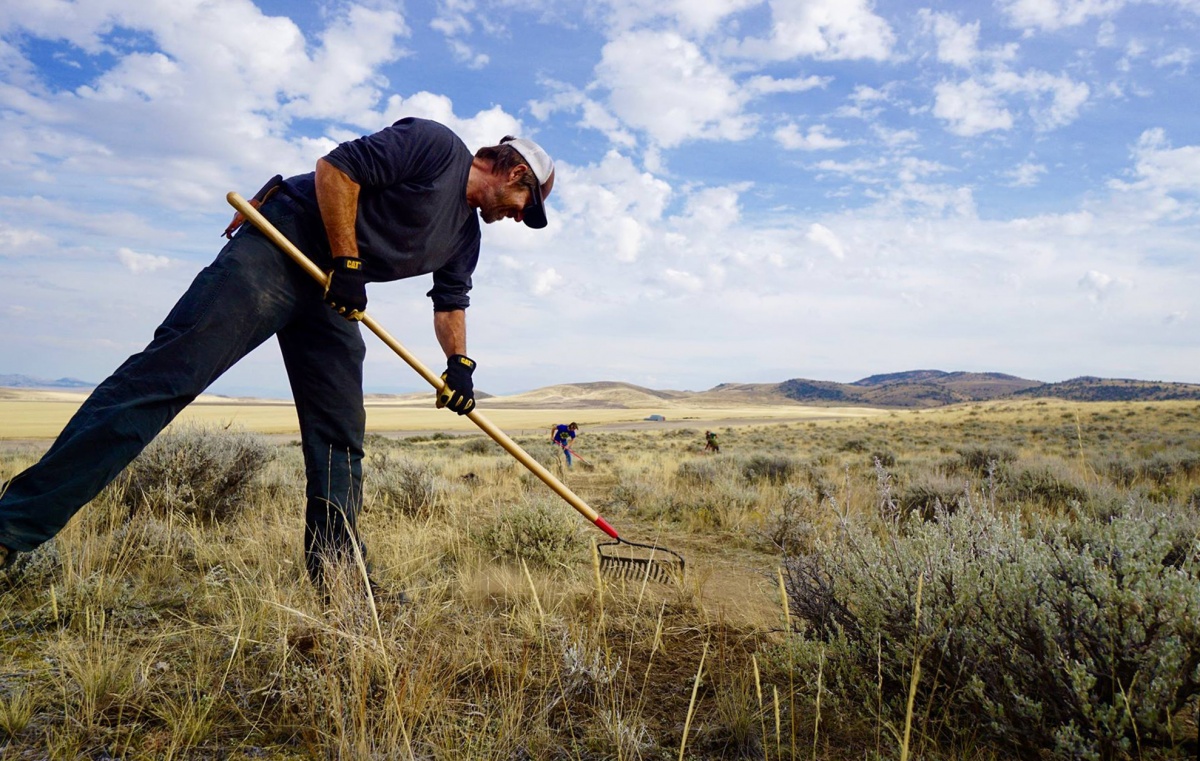 Though the volunteer-driven cleanup activities centered around National Public Lands Day, the fun was not limited to just one grid-square on the calendar: several opportunities on multiple days were available to those who wanted to pitch in and give back to their public lands.
The Dillon Field Office got things rolling in mid-August as more than a dozen volunteers fanned out along the Lower Madison River, armed with trash bags and the determination to clean up the water and adjoining river banks. At the end of the day, a large pile of bags stuffed full of garbage was the happy end result of a few hours of hard work.
The Dillon crew headed back out to the field a month later to clean up around the campsites and rock crags in the Revenue Flats area. This marked the third year of a NPLD cleanup at the popular site which provides great recreational opportunities for camping, climbing and exploring with four-wheel drive vehicles.
A little farther north, volunteers and employees from the Butte Field Office also celebrated National Public Lands Day, starting with more than 100 people gathering at the trailhead to build new routes at the Copper City Trails System near Townsend, Montana. Participants spent the day digging, raking, and, ultimately, testing out the new trails on their mountain bikes.
Also in September, the Butte Field Office organized and supported a Native American powwow at Devil's Elbow. This NPLD event was in conjunction with the 50th Anniversary of the National Historic Trails System and featured a powwow with a drum group, exhibition dancers, traditional games and short talks throughout the two days.
Louise Ogemahgeshig Fischer, who organized and led the event, said the powwow was a great success.
"We counted 68 people on Saturday and 79 people on Sunday. There were people from five different countries and people came from Idaho, New Jersey, Wyoming, South Dakota and various parts of Montana.
"Several people asked if we could have this again next year," Fischer added. "Everyone appeared to enjoy themselves. I know I did. "
At the end of the month, the Butte Field Office organized one last NPLD event—this time to plant trees at the popular Log Gulch Campground on Holter Lake. Among the different varieties of trees employees planted on the grounds of the recreation site, one stands out in particular: The Sensation Maple, also known as a Manitoba maple, turns a bright red, orange, and yellow in the fall. It is the hardiest maple in the world and the most drought tolerant. It typically grows in a rounded shape to a height of about 30 feet and spread to 25 feet.