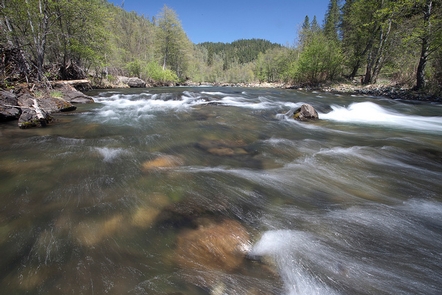 Address:
Bureau of Land Management Redding Field Office Redding, CA 96002
Latitude/Longitude:
40.657719, -122.952867
Directions:
Near Weaverville, CA. River access can be found along Hwy 299, Steel Bridge Road, and Steiner Flat Road.
Trinity
For a list of closures please visit our COVID-19 Update page
Popular with anglers and pleasure boaters alike, the 43 miles of the Wild and Scenic Trinity River from Lewiston to Pigeon Point is a class I and II segment that flows out of the Trinity and Lewiston Lakes. This clear, cold section of the river is world famous for its fly fishing. Paddlers enjoy the narrow valley with Ponderosa Pine, Douglas fir, Oaks, and Madrone trees coating the walls of the canyons. If you would like more adrenaline rush, the waters below Pigeon Point rage at class III-V. Those interested in a more relaxing experience can enjoy the abundant camping options in the area or head for the trail with your friends, horses, or dog. If you would like to stay at the river's edge, you can always swim, fish or do a little gold panning. The river can be accessed from many locations along this stretch of the Trinity River.
Whether you are bank fishing or float in a drift boat, world famous fly fishing is what you will get on the Wild and Scenic Trinity River between Lewiston and Pigeon point. Clear, cold, class I and II water flow through this section popular with anglers and pleasure boaters alike. Several commercial guides operate on the Trinity River under BLM and Forest Service Special Recreation Permits offering guided drift boat fishing trips. The BLM, in agreement with the Forest Service, manages up to 100 commercial fishing guide permits on the Trinity River from Lewiston downstream to Burnt Ranch. Each year (approximately in late July/early August) BLM-Redding accepts permit applications if open spots are available (usually due to non-renewal or cancellation of a permit). Permits are awarded based on the number of open spots available and approval of applications. Applying for a permit does not guarantee that you will receive a permit. If there are more applicants than available permits, names will be drawn at random to determine who is awarded a permit.
The application window for 2019 has closed, and new applications are not currently being accepted. If you are interested in applying for a permit next year, please contact the BLM-Redding Field Office to see if/when permit applications will be accepted.
Trinity River Salmon Festival
Using Digital Maps on Mobile Devices
Heading out for a remote adventure?  No cell coverage?  No problem. The BLM has developed georeferenced maps compatible with any georeferenced map mobile application – Avenza Maps App being one of the more common.
The map available for this recreation area is georeferenced. For instructions on how to download and use georeferenced maps, and to access maps for other recreation areas, please visit https://www.blm.gov/maps/georeferenced-PDFs.
Please note that georeferenced maps are not a substitute for proper preparation and knowledge to travel on public lands. Always plan ahead and check the most up to date information and conditions before heading out.