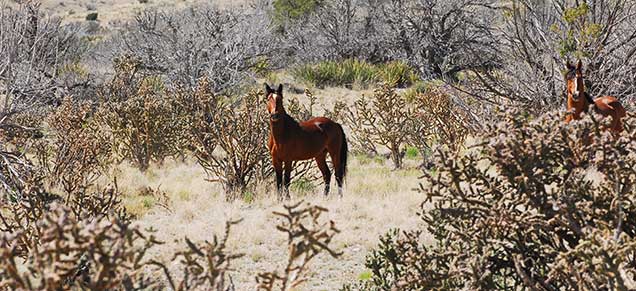 Bordo Atravesado HMA
A wild horse herd has been present in the area since at least the early 1950s.  Bordo Atravesado horses come in an array of colors, which include buckskins, roans, grays, palominos, bays, sorrels, and a few black horses.
Location: The Bordo Atravesado Horse Management Area is approximately 15 miles northeast of Socorro, New Mexico.
Size: The Bordo Atravesado Horse Management Area Consists of 19,605 acres.
Topography/Vegetation:  The topography is generally mountainous with rolling limestone hills. The HMA rises from an elevation of 5,500 feet in the lowlands to a height of 6,970 feet in the uplands.  Three major vegetative types found within the HMA are the piñon-juniper type, the grass type, and the desert shrub type.  Upland areas consist of piñon-juniper with a mixture of vegetation including black grama, New Mexico feather grass, blue grama, sideoats grama, galleta, sand dropseed, bottlebrush squirreltail, Indian ricegrass, wolftail, winterfat, mountain mahogany, and sumac.  Lowland areas are occupied by blue grama, alkali sacaton, giant sacaton, burrograss, ring muhly, sand dropseed, mesa dropseed, cholla, sideoats grama, black grama, winterfat, and juniper.
Wildlife: Wildlife species known to occur in the area are elk, mule deer, pronghorn, coyotes, and various reptiles, rodents, raptors, and songbirds.
AML:  40-60