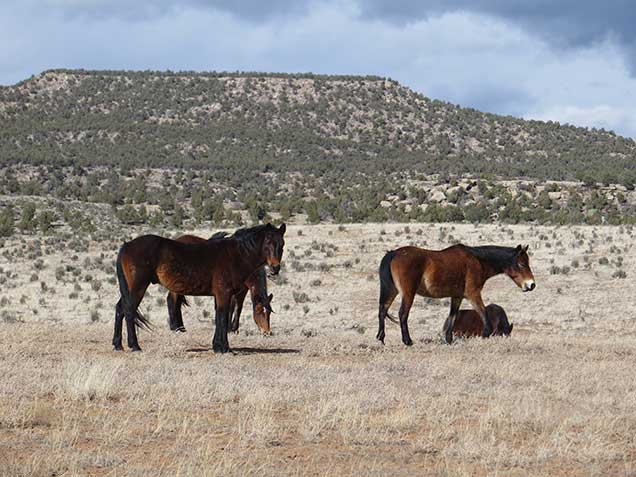 Carracas Mesa Herd Management Area
The history of the Jicarilla wild horses is vague, but appears to be based on cavalry stock and ranch horses from the area, along with an influx of horses from the adjacent Jicarilla Apache Reservation.  Genetic testing has indicated a mixed breeding background.  Colors vary from bay to paint.  Many horses adopted from this herd have made great riding horses.
Location: The Carracas Mesa Herd Management Area is 35 miles northeast of Bloomfield, New Mexico, south of the Colorado border, and east of Navajo Lake.
Size: The BLM managed herd area is 8,999 acres.  The adjacent U.S. Forest Service (USFS) Jicarilla Ranger District-managed Jicarilla Wild Horse Territory (WHT) is approximately 76,000 acres.  The BLM and USFS jointly manage the Jicarilla wild horse herd.
Topography/Vegetation: The topography is mountainous with elevations ranging from 6000 to 8000 feet.  The climate consists of hot, dry summers and cold winters.
Vegetation consists of piñon-juniper and sagebrush communities at the lower elevations.  At the mid and lower elevations, sagebrush, rabbitbrush, serviceberry, antelope bitterbrush, and mountain mahogany are common along with grasses and forbs.  Ponderosa Pine and Gambel oak are present in the higher elevations.
Wildlife: Wildlife commonly viewed in the Herd Management Area include black bear, mountain lions, mule deer, elk, bald and golden eagles, red tail hawks, ravens, and a host of smaller terrestrial wildlife.  Livestock grazing is permitted on most of the Herd Area, while an approximately 9,000 acre parcel has been relinquished for wildlife and wild horses.
AML:  The AML is 23 head of horses.  The USFS Jicarilla WHT AML is 50-105, making the joint management AML for the herd 73-128 head.