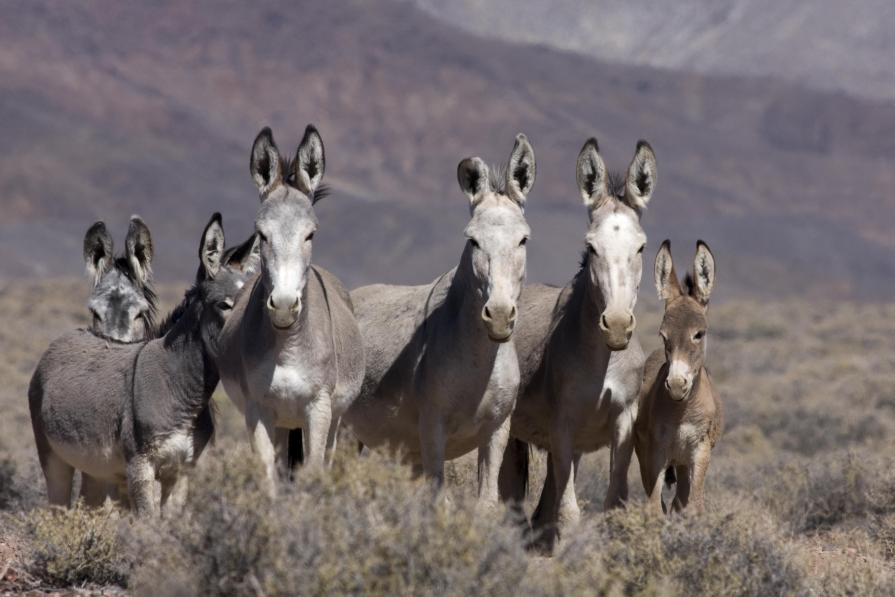 2021 Black Mountain Herd Management Area Gather
Purpose of Gather
The purpose of the gather is to address an overpopulation of wild burros within the Black Mountain Herd Management Area (HMA) to achieve a thriving natural ecological balance, alleviate deterioration of the rangeland, to respond to requests to remove wild burros located outside of the herd management area in areas not designated for their long-term use and to address public safety and private property concerns. 
Details of Gather
The BLM plans to begin gathering approximately 500 burros from within the Black Mountain HMA beginning in March 2021 by utilizing water and bait traps throughout the HMA area. The gather will be conducted by BLM staff. For the purpose of this part of the gather no burros will be treated with fertility control. All gather operations will be overseen by the BLM Colorado River District and Kingman Field Office.
Public Observation
There will be no public viewing opportunities for this gather due to the nature of the gather. 
Adoption Information 
Animals gathered from the Black Mountain HMA will be available for adoption at the Florence Wild Horse and Burro Training and Off-Range Corral in Florence, AZ through the Wild Horse and Burro Adoption Program.  
How to Adopt 
Visit the BLM Wild Horse and Burro Adoption and Sale Program to learn how to adopt or purchase a wild horse or burro.  
Background
The Black Mountain HMA is in northwestern Arizona, 15 miles west of Kingman. The area parallels the eastern shoreline of the Colorado River for 80 miles, the Hoover Dam south along I-40. The current Appropriate Management Level (AML) for the Black Mountain HMA is 478 burros. 
Gather Details

Contractor: In House

Gather method: Bait trap 

Planned gathered (#): 500 burros 

Planned removed (#): 500 burros 

Planned mares or jennies treated (#): 0 

Current as of: September 08, 2021

Cumulative Totals

Animals Gathered

March 9
15 burros (14 males, 1 female)

March 10
7 burros (males)

March 11
7 burros (males)

March 12-15
0 burros

March 16
7 burros (males)

March 17
2 burros (males)

March 18
7 burros (males)

March 19-May 18
0 burros

May 19
10 burros (3 males, 5 females and 2 foals)

May 20-23
0 burros

May 24
2 burros (males)

May 25
8 burros (2 males and 6 females)

May 26
0 burros

May 27
8 burros (4 males, 2 females and 2 foals)

May 28-June 4
0 burros

June 5
35 burros (23 males, 7 females, and 5 foals)

June 6-7
0 burros

June 8
5 burros (2 males, 2 females, and 1 foal)

June 9 
4 burros (2 females and 2 foals)

June 10-12
0 burros

June 13
11 burros (1 male, 9 females,1 foal)

June 14
18 burros (3 males, 8 females, and 7 foals)

June 15
6 burros (males)

June 16
0 burros

June 17
13 burros (5 males, 4 females, and 4 foals)

June 18
2 burros (males)

June 19
5 burros (3 females and 2 foals)

June 20
4 burros (3 females and 1 foal)

June 21
14 burros (2 males, 9 females, 3 foals)

June 22
5 burros (1 male, 2 females, 2 foals)

June 23-25
0 burros

June 26
17 burros (8 males and 6 females, 3 foals)

June 27
5 burros (males)

June 28-July 3
0 burros

July 4
29 burros (2 males, 19 females, 8 foals)

July 5-7
0 burros

July 8
20 burros (18 males, 1 female, 1 foal)

July 9-11
0 burros

July 12
3 burros (males)

July 13
4 burros (males)

July 14
0 burros

July 15
16 burros (11 males, 3 females, 2 foals)

July 16-17
0 burros

July 18
17 burros (8 males, 7 females, 2 foals)

July 19-23
0 burros

July 27
6 burros (5 females and 1 foal)

July 28-August 3
0 burros

August 4
7 burros (2 males and 5 females)

August 5
11 burros (5 males, 5 females, 1 foal)

August 6-8
0 burros

August 9
22 burros (14 males, 6 females, 2 foals)

August 10
9 burros (3 males, 3 females, 3 foals)

August 11
8 burros (2 males, 5 females, and 1 foal)

August 12-22
0 burros

August 23
7 burros (3 males, 2 females, and 2 foals)

August 24
0 burros

August 25
7 burros (3 males, 2 females, and 2 foals)

August 26 
0 burros

August 27
17 burros (10 males, 6 females, and 1 foal)

August 28 
15 burros (12 males, 2 females, and 1 foal)

August 29
31 burros (9 males, 18 females, and 4 foals)

August 30
4 burros (3 males and 1 female)

August 31-September 1
0 burros

September 2
10 burros (4 males, 4 females, and 2 foals)

September 3-4
0 burros

September 5
5 burros (males)

September 6
16 burros (7 males, 6 females, and 3 foals)

Animals Removed Cumulative Total (#): 481

Total Deaths Cumulative (#): 0

Acute (#): 0

Chronic/Pre-existing (#):  0

List animal's age, color, gender and cause(s) of death: 

Facility Destination: Florence facility

March 19: Shipped 45 burros to Florence.
June 11: Shipped 55 burros to Florence.
June 18: Shipped 53 burros to Florence.
July 2: Shipped 56 burros to Florence.
July 23: Shipped 97 burros to Florence.|
August 18: Shipped 62 burros to Florence.
September 7: Shipped 112 burros to Florence.

Total Released Cumulative (#): 0