RESOURCE MANAGEMENT PLANS FOR WESTERN OREGON

On August 5, 2016, the Deputy Director of the BLM signed the Records of Decision (RODs) for the Resource Management Plans (RMPs) for western Oregon. The signing of the RODs marks the end of a four-year effort by the BLM to use new science, policies, and technology to protect natural resources and support local communities.
These RMPs provide direction for the management of approximately 2.5 million acres of BLM-administered lands, and maintain strong protections for the northern spotted owl, listed fish species, and water resources while offering predictable and sustainable outcomes for local communities from tourism, recreation, and timber harvest.
Click on the StoryMap below to learn more about the RMPs for Western Oregon: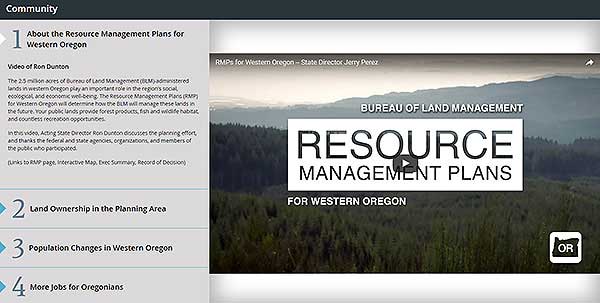 The BLM has also developed an interactive map for the RODs/RMPs available for the public to view and explore land use allocations and other designations on these BLM lands.