Campbell Tract WWII History
Most visitors to the Campbell Tract come to enjoy a walk or bike ride on the 12 miles of unpaved trails. However, many visitors don't know the Campbell Tract played a military role in World War II. Remnants of bomber parking pads and taxiways, building foundations, foxholes, and defensive earthworks can still be seen today.
Wartime preparation and construction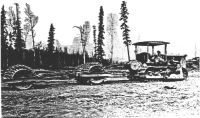 In 1942, more than 7,000 acres of federal public lands to the south and east of Anchorage were withdrawn for military use by the War Department.
The U.S. Army constructed a primitive jeep trail from the small railroad town of Anchorage through the untouched birch forest to the current site of Campbell Tract. This trail was improved to become a wider gravel road which crossed the South Fork of Campbell Creek by means of a ford. After the war, the military road became known as Campbell Airstrip Road.
Army Engineers then constructed Campbell Airfield, a 5,000-foot gravel runway south of the creek. The airstrip was built to help disperse aircraft and crews away from Ft. Richardson in the event of a Japanese attack. Similar satellite airstrips were built at Birchwood, Willow, and Goose Bay. Aircraft scattered at different fields would lessen the chance of all planes being destroyed in one attack.
Campbell Airfield and Garrison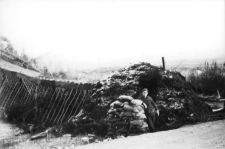 Campbell Airfield consisted of wide gravel taxiways and tactically dispersed aircraft parking spots. The airfield was supported by an Army Air Corps garrison. Initially soldiers built a guard shack and barracks huts out of saplings and insulated them with double layers of sod (photo at right). With its tents and improvised shelters, Campbell Garrison looked more like a Boy Scout camp than a military installation. A Quonset hut camp was later constructed near Campbell Creek.
Temporary structures and Quonset huts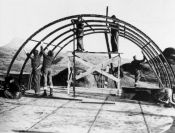 After the war, Quonset huts at Campbell Creek were removed, but many features of this period remain. The airstrip, taxiways, aircraft parking areas, foxholes, and concrete foundations can still be seen at Campbell Tract today. And several old military surplus Quonset huts are still in use today in other parts of Anchorage.